With shoppable content currently on the rise, the retail industry is experiencing significant changes in the way it advertises products. From blogs and video ads to lookbooks and magazines, content is shifting away from its traditional format and becomes more interactive, more powerful, more memorable. And what's more — it also becomes more real. By including shoppable features, brands are simultaneously reducing the number of steps that customers need to take to go from content to purchase. And while there are numerous benefits of shoppable content to consider, the best way to get to grips with it is to watch brands putting theory into practice and actually do it. So here are 11 shoppable content examples for you to check out!

11. Mine All Mine
by Nowness
A global video channel that shows modern culture at its best, Nowness is a go-to source of inspiration for art, fashion, music, travel — you name it. In 2014, the brand collaborated with filmmakers, dancers, choreographers and fashion designers to produce an interactive, motion-touch shortfilm. The idea was to bring spring/summer fashion pieces "to balletic life" and simultaneously draw viewers into the world of commerce.
The shoppability integration is as simple as it comes: just click on the pieces you like right on the screen, and you'll get the chance to review the products as soon as the video ends. Another click, and you'll be redirected to the product page. Et voila!
10. Hannah Bronfman for Harper by Harper's Bazaar
Adopting the exact same technique as Nowness, Harper's Bazaar partnered up with Hannah Bronfman — a modern 'It girl', DJ, health nut, model, blogger, fitness guru, entrepreneur (and multitasker) — to make a "touchable" ad . Together, they shot a sporty video that featured high-fashion garments streamed in from Bazaar's own online shop. All the viewer needs to do to press play, tap the clothes, and shop directly from the screen.
The video was published last year in October, and was followed by a small digital issue on the same day, featuring the model and the products in a traditional-looking link format: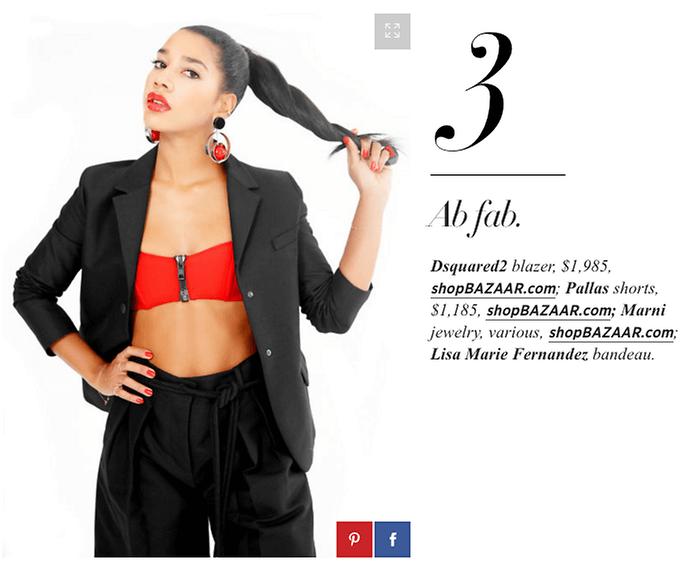 By comparison, the shoppable video got 80K shares on social media while the "normal" article received only 138 shares. It is, therefore, obvious which content had higher click-through-rates and generated more sales.
9. Porter and The Edit by Net-A-Porter
Net-A-Porter, the luxury fashion e-tailer, is a true master of shoppable content. First, there's The Edit — a digital weekly magazine with a celebrity spread. The usual kind of thing. It's about 30 pages long, follows the traditional editorial format, and would have been anything but special if it wasn't for its shoppable feature. As soon as you hover over any product, up pops the "shop now" button that redirects you to a relevant page. Easy peasy. The only inconvenience is interrupting the reader experience, but there's a simple way to work around it if you open the product page in a new tab (CMD + click for Mac, Ctrl + click for Windows).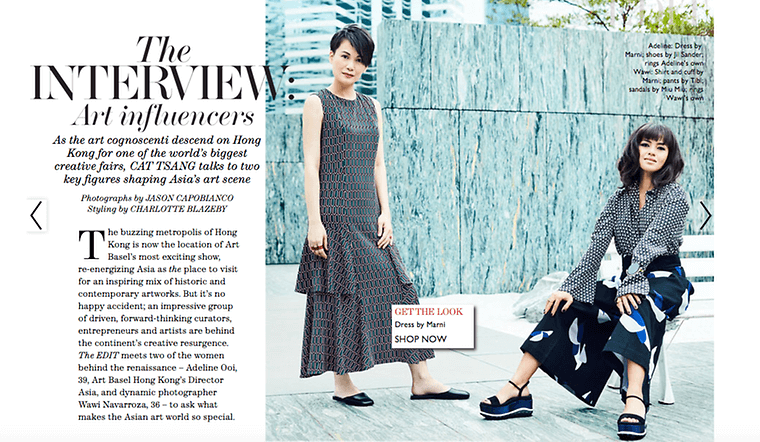 The Porter magazine, however, is another story. For starters, it comes in a print version. You can either subscribe and have it delivered directly to your door six times per year, OR buy it in local bookstores, supermarkets, and convenience stores all over the world. Again, the usual kind of thing. The magic comes when you realise that with a special Net-A-Porter mobile app that has a built-in product recognition you can scan every product displayed on the glossy pages of the magazine and immediately purchase things that have inspired you in print.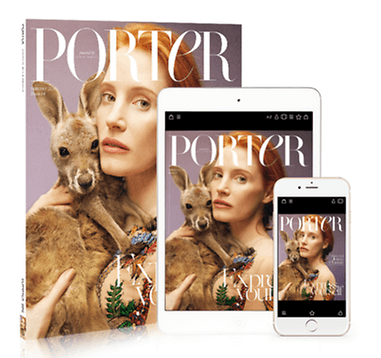 8.
Clubhouse
by Canterbury
Pushing forward the editorial-like format, the sports clothing company Canterbury created a digital magazine full of shoppable articles that allow the reader to buy products without interrupting the reading experience. This means that readers can forget about pop-ups and redirects, keep reading the article they like, and enjoy it until the end without being forced to go to the shopping cart.

7.
Interactive Experience
by Bally
Back in 2012, when shoppable content wasn't even a trend yet, Swiss high-fashion brand Bally made an interactive video starring puppies, Miranda Kerr and Julia Stegner (a killer combination). The video, which is a bit over 1 minute long, automatically stops whenever there's a product to display, giving just enough time to click on a pop-up if you're interested — or skip it otherwise.
6. The Girlfriend's Guide to Divorce by Bravotv.com
We are stepping into the era of T-Commerce, so soon you'll be able to shop your favourite items from popular TV series without spending hours searching for the name of the label you've just seen. Bravo TV, a part of Bravo Media, became a true pioneer of T-Commerce after launching a TV series called "The Girlfriend's Guide to Divorce". As you watch an episode, you can hover over a bubble in the top right of the video screen that shows the exact same product that the star is wearing at that moment. From there, you can review all featured products and click to buy. Content commerce at its best!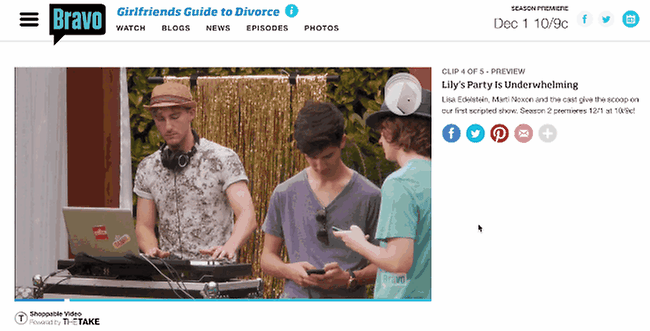 Don't miss out: What Is Content Commerce?
5.
#TedPresents
by Ted Baker
Last year, Ted Baker decided to put some fun back into Christmas shopping. The brand produced a shoppable video that presented products in a super interactive and simple way. With clickable hotspots embedded into the video, viewers could open a pop-up, read more information about the item and either hit the "shop now" button or continue watching the video.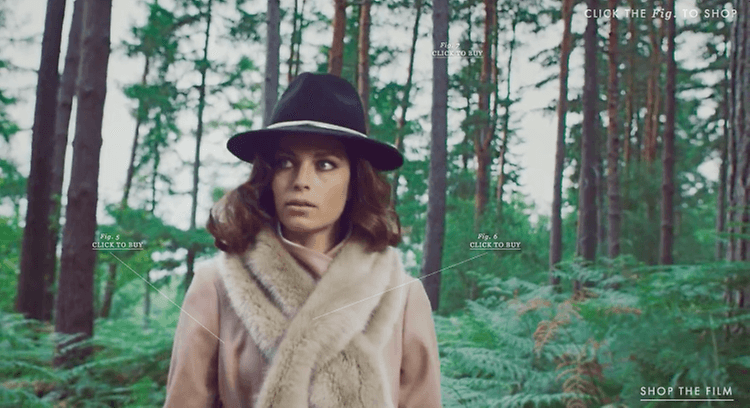 Watch it, shop it, live it — that's the fundamental idea.
4.
Forever Faster
by Puma
To debut a new collection of football sportswear, Puma created (yet another) shoppable video that allows viewers to click on the screen to immediately purchase products. Whenever there's a "ready to be bought" product, a small red Puma logo appears to point out where exactly you have to click. As reported by Fashion&Mash, the video boasted a 6.9% conversion rate, earning a 24x times higher earning per click than is usual in in the e-commerce industry.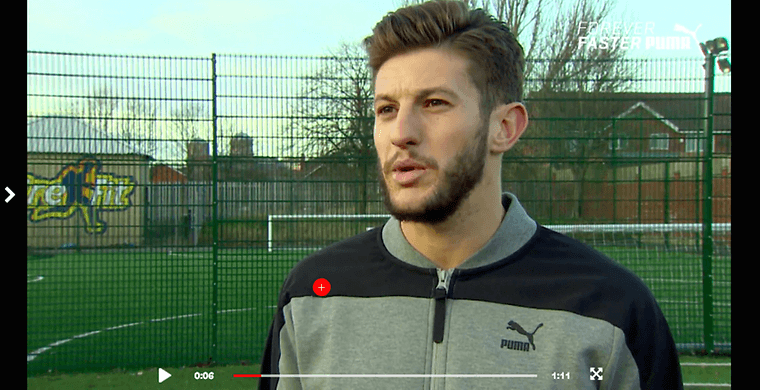 3.
Today's Room Crush
by One Kings Lane
The moment you enter the world of One Kings Lane, prepare to dive into gorgeous shoppable photography. Every day — partially to serve as a daily source of inspiration and partially to attract more potential customers — One Kings Lane uploads a new photo of a stylishly furnished room in its Today's Room Crush category. Each and every piece of furniture displayed there has a hotspot mark, which leads the user to a detailed product description and an opportunity to add the product to cart and immediately proceed to checkout.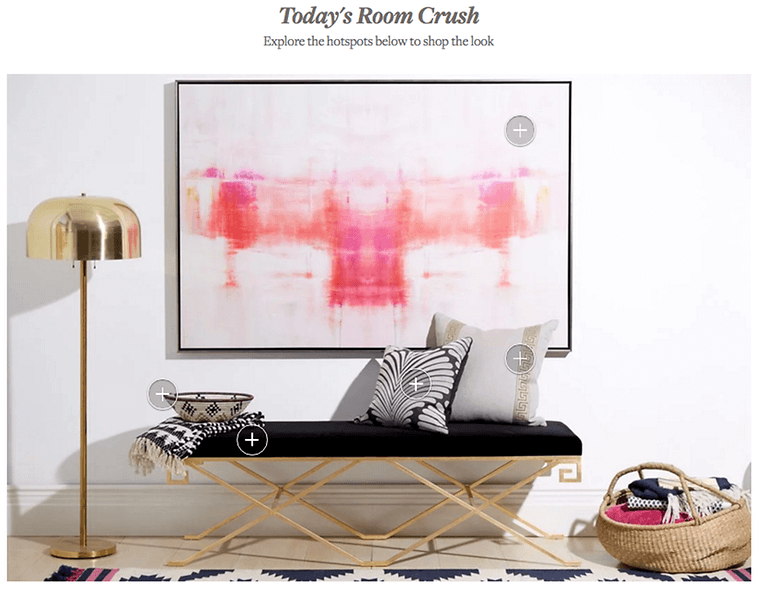 Elegant and simple, this is a great example of how shoppable content can rely on beautiful imagery rather than the emotive power of words.
2.
#LookOfTheWeek
by Peter Werth
Similar to One Kings Lane, the British fashion designer Peter Werth prefers to keep it simple. So the brand launched a Look of the Week category that has a brief explanation behind the inspirational influences of the week and a shoppable photo with clean white arrows and descriptions of the product.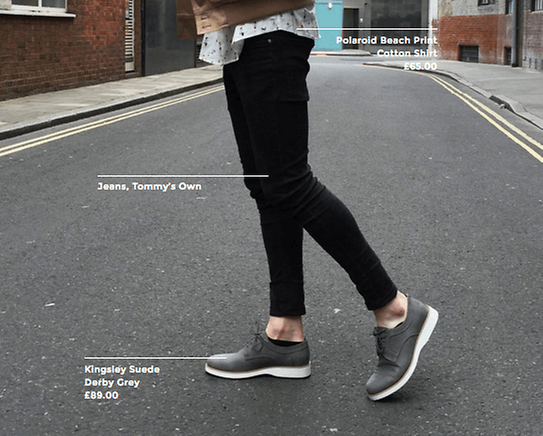 In addition, there's also a small social catwalk that showcases how the brand's customers are putting together the #LookOfTheWeek. Great for community building!
1.
Swoon
by Monsoon
Swoon was a project carried out Monsoon for the Autumn/Winter collection in 2014, when the brand created a digital lookbook that was both conveniently shoppable and highly interactive. The users could play with the products, try them on, tap on the background, see what happens and be entertained and inspired before they were ready to make an actual purchase.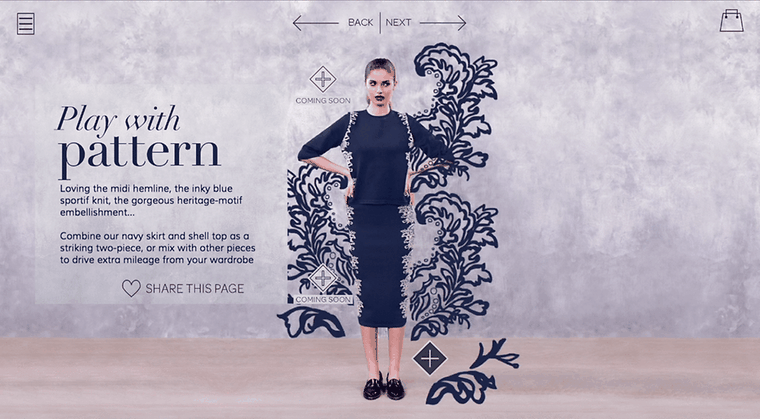 As soon as potential buyers reached the inspirational tipping point, they could proceed with the checkout right from the magazine.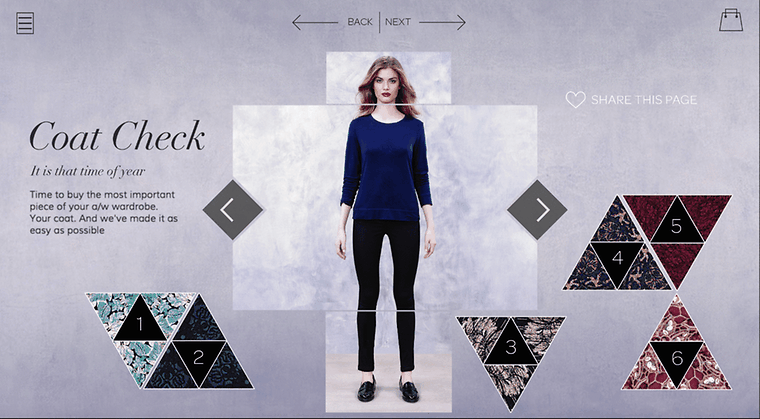 That's it!
Now that you've seen 11 examples of shoppable content that turns content into a sales channel, tell us — which one is your favourite?
Image sources: nowness.com; harpersbazaar.com; net-a-porter.com; bravotv.com; tedbaker.com; puma.com; onekingslane.com; peterwerth.com; ceros.com