In just a little while, 2015 will be over. And as much as it's important to look back and re-evaluate the lessons learned in content marketing over the last 12 months, it is also essential to get ready for what the future might hold. Being in touch with trends is crucial for anybody running an e-commerce business with a responsible marketing strategy. In light of this, Styla has prepared 9 content marketing trends to expect in 2016.
1. Less ads — more value
Let's face it: the 21st century is the era of the "informed customer" — a customer who values information more than anything else. People are getting tired of superficial pop-ups that have nothing but a few lines to say about the product. Instead, they want more details, more knowledge and, therefore, more power over their decision-making process. In short, this means that customers nowadays are smarter than they ever were — and that's exactly why content marketing is so relevant. According to Demand Metric, content marketing generates 3 times as many leads as traditional outbound marketing (while costing 62% less), but only when offering educational value to its readers.
If you do it right, Contently claims that content marketing will result in 55% higher website traffic and 97% more inbound links, while also serving as a primary factor behind up to 50% of buying decisions.
But again, education is what should come first. Keep that in mind when you write your next blog post!
2. Do you run your own blog?
Speaking of blog posts, 2015 proved that companies that actively run a blog generate 67% more leads on a monthly basis than those who don't. So, if you're not involved in the blogosphere yet, it's about time you join it. After all, there are about 50,000 new blogs created every single day.
3. Prepare for content overload
According to the report on Content Marketing — Benchmarks, Budgets and Trends — North America, both B2B and B2C marketers clearly recognise the importance and value of content creation and intend to increase their efforts in the upcoming year:
76% of the respondents say they will produce even more B2B content and 80% of the surveyed B2C marketers plan to do the same in 2016.
However, here comes the paradox: even though there will be more resources invested into content marketing, there's also going to be less return seen on that investment. This is why marketers should approach content creation in a more strategic manner than they have done previously — content should be engaging, relevant and, most importantly, educational.
4. Keep SEO in focus
Although content marketing will be heavily saturated with photos, videos and other visuals, in-text SEO won't go anywhere. As a matter of fact, it will grow even stronger since it's been proven that people aren't just looking for keywords anymore — instead, they are looking for context that wraps up a genuine story around that keyword. So, long-tail searches will become more dominant in 2016, where content will have to be even more meaningful and more audience-centric than in 2015.
5. A picture paints 1,000 words but a video is worth a million
Guardian claims that by 2017, video will account for 69% of all consumer Internet traffic. And indeed, visuals in general, such as illustrations, infographics, photos and cinemagraphs, have witnessed a jump from 69% to 76% as a content marketing tactic this year. In 2016 the growth is expected to be even higher, with videos vastly becoming the future (and the present) of content marketing.
Another important trend that we can expect to see in 2016 is an increased number of well-established brands producing videos that look user-generated instead of highly professional. Though it may sound counterintuitive, creating content that appears to be user-generated is actually a clever move: the content looks more authentic or 'real', and is therefore more likely to engage readers.
6. It's all about being responsive
Probably the most foreseeable content marketing trend in this list is mobile ads growth. In the upcoming year, mobile ads will continue to grow just as much as they did in 2015 — by 45%, according to the Mobile Economy Report. This comes as no surprise since the world is witnessing a rapid technology migration to high-speed mobile networks, enthusiastically integrating smartphones and tablets into everyday usage. Shopping via phones is now commonplace— in fact, 18.7% of all e-commerce orders in the third quarter 2015 were placed on phones only.
The mobile industry continues to scale rapidly, with a total of 3.6 billion unique mobile subscribers […]. Half of the world's population now has a mobile subscription—up from just one in five 10 years ago. An additional one billion subscribers are predicted by 2020, taking the global penetration rate to approximately 60%.
One of the ways businesses can keep up with the fast-changing pace is to make sure that their websites have a responsive design that looks good both on desktop and mobile — like the ones we offer here at Styla.
7. Content will continue migrating from websites to apps
Because of the global mobile-mania, more and more people are reading news and getting information via phones and tablets. This is why you should expect content to migrate to apps, leaving web browsers in the past. We already saw this happening in the beginning of 2015 when the new Apple Watch decided not to support Safari anymore, Apple's own web browser, allowing users to navigate through apps only.
8. The rise of distributed content
In addition to the previous point, there's another unavoidable trend happening in content marketing: social media will become "the new front page" of newspapers and magazines. The truth is, homepages are no longer destination sites for readers who, according to ABC News, now prefer to interact with brands and news sites via links on social media. Buzzfeed was the first one to talk about "distributed content" when it introduced its new division of journalists, called Buzzfeed Distributed, in the beginning of this year. The division was to focus on creating "original content solely for platforms like Tumblr, Imgur, Instagram, Snapchat, Vine and messaging apps". The New York Times and Apple's News followed the trend set by Buzzfeed, and more establishments are expected to do the same in 2016.
9. Content will become shoppable
Shopaholics rejoice! In 2016, a major shift in content marketing will see the further spreading of shoppable content, allowing social media users to shop anytime, anywhere. Pinterest has recently showed off its "Buyable Pins", making over 2 million products instantly buyable from mobile devices. Instagram has also unveiled the "Shop Now" option, which enables shopping through third-party apps such as Like2Buy, for example. Videos on YouTube are undergoing the "shoppability" test at the moment, too, with Google's intention to launch Shopping ads in the near future. It seems that every platform out there strives to become a shoppable magazine, able to turn its readers into clients as smoothly and elegantly as possible.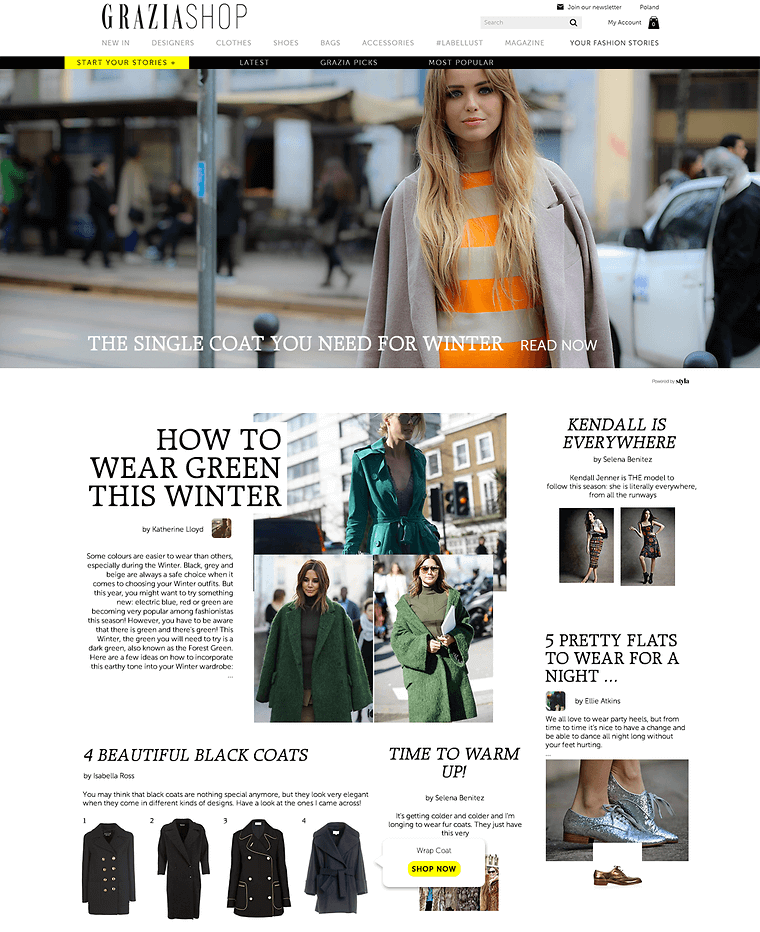 So what are you waiting for? Build your own shoppable content platform with

Styla

and take your readers from content to the shopping cart!