With the rise of shoppable content, everything is currently undergoing a "shoppability test': from social media, with its pins and Instagram pictures, to e-commerce. According to The Guardian, "shoppable" is the word that retail is swearing by nowadays, so there's no surprise that shoppable magazines are currently in demand. So without any further ado, here are the 9 reasons why you should consider investing in them.
1. Differentiate yourself from competition
To illustrate just how big the world of e-commerce is, here are the numbers: in 2015, it became a 1.6 trillion dollar market that is expected to grow over 20% in the upcoming year. There are approximately 12-24 million online stores worldwide, and the top 1% of them (giants like Amazon, eBay and Walmart, among others) account for 34% of total annual sales, as reported by LemonStand. For this very reason, standing out from the crowd has never been more difficult — and that's why retailers need to find new commerce concepts and content solutions. And the shoppable magazine is, indeed, a new content solution (with an editorial touch and a powerful commercial capability) that not only looks different, but also operates in a way that isn't common practice (yet). In other words, it is an unexpected answer to your retail competitors.
Differentiating your brand from competitors, however, isn't the only benefit. Apparently, using a magazine format in e-commerce can result in 500% higher purchase intent than when using classic webshops (Source: American Marketing Association 2015). And for many businesses out there, this can be a huge deal breaker.
2. A different approach to e-commerce
Since the very beginning, e-commerce has been all about the last stage of the purchase funnel — selling. This means that there has always been a certain expectation that a buyer should know exactly what he wants before he enters an online shop. But think about how many times you've come to a department store without having a slightest idea about what you really want — how do you sell to this kind of customer?
The shoppable magazine approaches e-commerce a bit differently. It begins with creating an awareness about the product, attracting even those who haven't got a clear purchase intent yet, then inspiring with an interest through compelling content, then evoking a desire to purchase, and finally setting a call-to-action by providing an easy opportunity to shop from the magazine right away.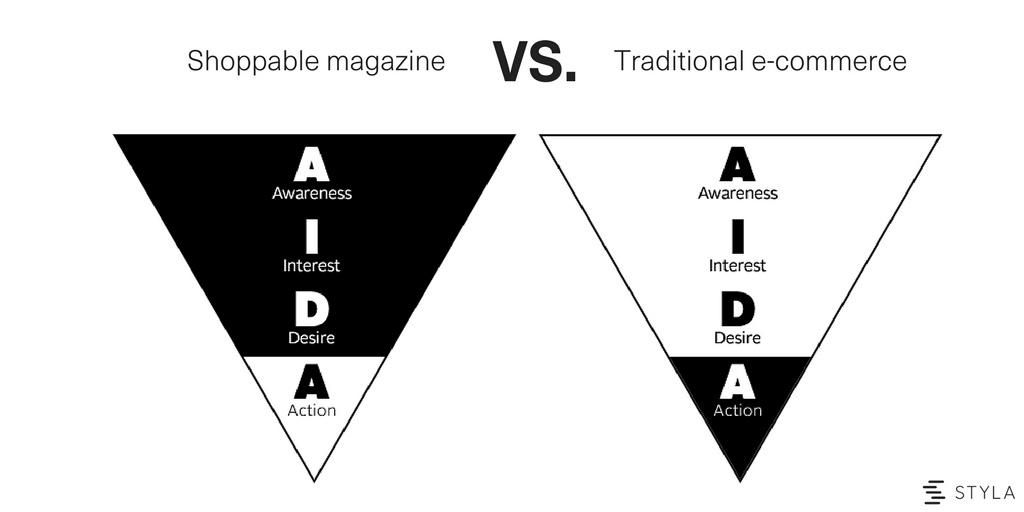 By grasping more stages of the AIDA-model, the shoppable magazine creates an opportunity to attract extra dozens or even hundreds of potential customers, depending on how big your market is. Not too bad, is it?
3. A higher click-through-rate
Shoppable magazines claim to lead to a 22% increase in clickthrough rate, but, according to the recent success story of Pottery Barn Teen, the sky is the limit. The American decor retailer "shoppified" its blog in September 2015, which resulted in 110% higher click through rate when compared to the previous blog posts. "Before, we were only able to hyperlink the copy in our blog," reveals Allyson Buscemi, Social Media Manager for PBteen. "Now our fans can roll their mouse over an image, reveal the products that are within the image, and then click on them to directly shop leading back to our e-Commerce site."
See also: 9 Content Marketing Trends To Watch Out For In 2016
4. Enhancing the product with emotional added value
"Every decision is emotional", proclaimed Tom Snyder, the founder of VorsightBP, on the AA-ISP's 2015 Inside Sales Leadership Summit, and he is absolutely right. Even though most buyers would say that the decisions they make are based on a rational analysis and logic, the latest studies in psychology and consumer behaviour argue that it is emotions that influence and eventually determine our choices. If you get inside the consumer mind, you will see that emotion is a necessary ingredient to almost all decisions, explains Antonio Damasio, professor of neuroscience at the University of Southern California. So the best way to sell a product is to wrap it up in a story that would trigger an emotion in a potential buyer.
And that's precisely what a shoppable magazine does: instead of selling things, it sells feelings. Instead of just listing a product description, it creates a story — and this way, boosts the product with an added emotional value.
5. Improving the shopping experience for your consumers
Anyone who has ever bought anything from Apple knows how beautiful the experience of unboxing their products is. And indeed, Apple doesn't just sell iPhones and MacBooks — it sells an experience, which is exactly what turns their product into something more than just an expensive material thing.
The shoppable magazine achieves exactly the same effect. Its design has an editorial look, its content has a personal touch — and altogether, this replicates a real-life experience of both flipping through the pages of your favourite magazine (Cosmo, Vogue, Allure — whatever angle you pursue) and hanging out with a personal shopper. But what is important to note is that shoppable magazine, while being exceptionally close to a print magazine experience, successfully delivers all the advantages of the web. And such a combination is something that traditional e-commerce simply doesn't offer.
— FOLLOW TO PART II OF THE ARTICLE —