How Digital Experiences Can Build Brand Loyalty
In the past, companies could build a loyal customer base and brand reputation by delivering a quality product or service, but this is rapidly changing. In fact, 86% of today's consumers are more willing to pay more for a better customer experience. That means customer experiences, and digital experiences in particular, are becoming the key brand differentiator for eCommerce companies in 2020.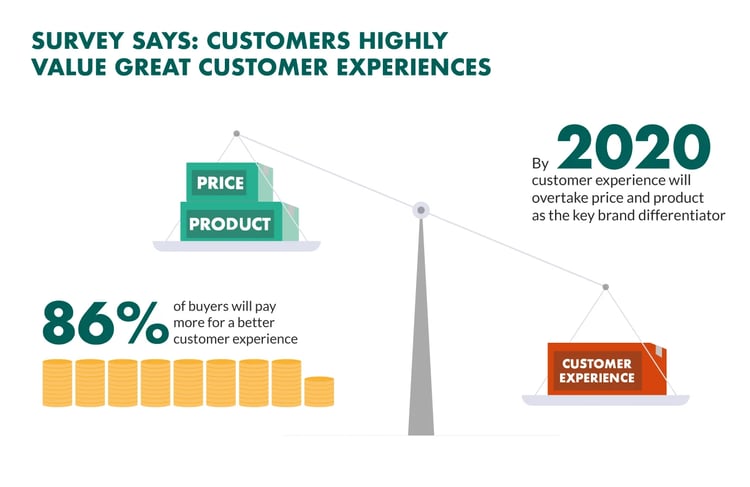 (Source)
With this in mind, let's take a closer look at brand loyalty for eCommerce companies and online retailers, digital experience best practices, and how frontend platforms can help.
Why Brand Loyalty Matters For eCommerce
Brand loyalty can have a dramatic impact on eCommerce success, but what does loyalty mean exactly? According to a survey on brand loyalty, 68.7% of consumers defined brand loyalty as repeat purchases, 39.5% said it's a 'love' for the brand, and 37.7% believe it's a preference for the brand despite the price.
Every year it becomes harder for eCommerce brands to compete with online retail giants like Amazon. A loyal customer base, however, would be willing to pay more money, spend more often, and spread their loyalty for the brand to other consumers. This is especially true because many category or product detail pages on Amazon are lacking, so providing a superior shopping design and functionality can be a key competitive advantage. That's why building customer loyalty should be a top priority for eCommerce brands and make every moment a brand builder.
Digital Experience Best Practices For Brand Loyalty
Digital experiences are the interactions consumers have with a brand through computers, tablets, smartphones, and other digital mediums like site search, personalized content, and the actual buyer's journey. Here are some ways to provide better digital experiences, and in turn, improve brand loyalty.
Fast Web Pages
Today's consumers are impatient when it comes to online shopping. For example, nearly a third of website visitors leave if a page takes seven seconds to load. In addition, consumers visit fewer pages overall if a website is slow. This means if eCommerce stores are slow, they'll get less traffic and visitors will spend less time engaging with the site. Website performance, therefore, is all about the people.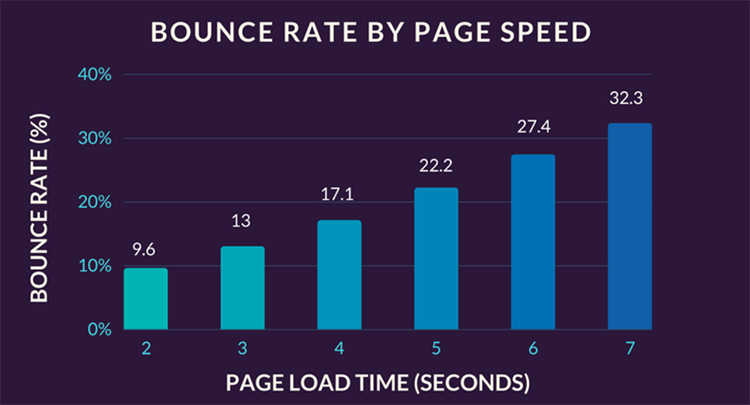 (Source)
Optimizing web page speed by even a few seconds could greatly improve brand loyalty and increase revenue over the long term. There are numerous methods for speeding up websites, but a great way for brands to get started is shifting from a monolithic shop system to an API-led eCommerce tech stack for decoupling backend functionality and frontend experiences.
Great Mobile Experiences
A key aspect of customer experience is responsive design because even if brands have a great website, poor mobile experiences can quickly push customers away. Furthermore, mobile experiences are especially important as mobile eCommerce sales are expected to grow to $2.91 trillion in 2020, which is an increase of over 25% since last year.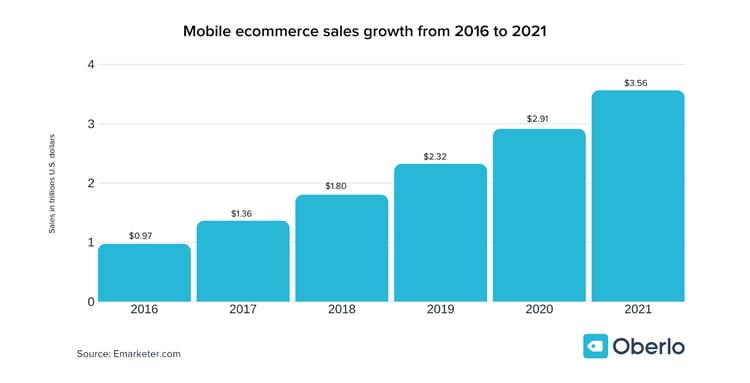 (Source)
While mobile commerce is growing rapidly, only 45% of consumers are satisfied with retail apps, and only 47% are satisfied with retail mobile websites. That means eCommerce brands that focus on convenient and responsive mobile experiences can stand out from the competition and build a more loyal mobile customer base. For this, many brands are turning to progressive web apps (PWAs), which combine the best of web and mobile technologies to offer native-like mobile experiences.
Tailored Experiences
Most modern consumers want shopping experiences that are tailored specifically to them. For example, brands can change pricing, language, and product recommendations to reflect the region where users are located or what stage in the buying funnel they are. More advanced tactics can leverage AI or machine learning to offer product recommendations based on past customer behaviour.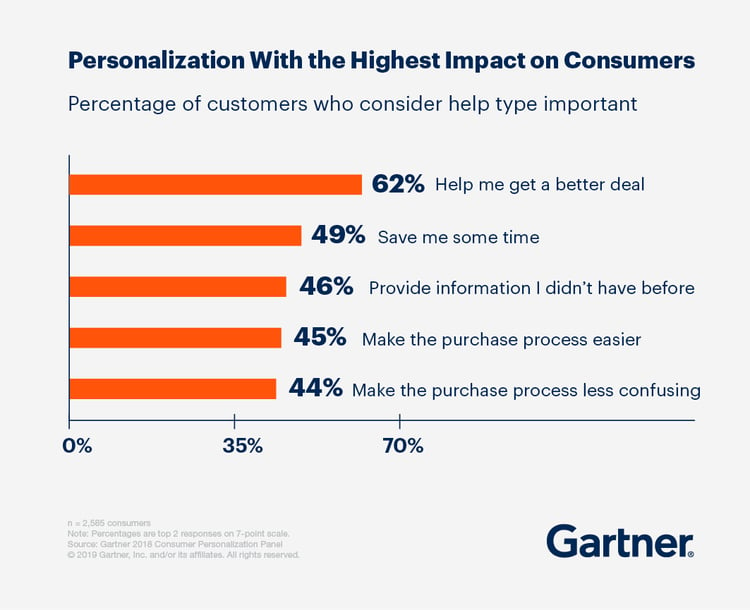 While any personalization strategy may improve customer loyalty, some tactics work better than others. In fact, research by Gartner found that 62% of consumers want digital experiences focused on getting a better deal, and 49% want a streamlined shopping experience that will save them time. eCommerce companies, therefore, should prioritize high-value personalization opportunities that directly impact brand loyalty.
Commerce Integrations
eCommerce stores will also want their digital shopping experiences to be seamlessly integrated with powerful commerce features. In a survey on consumer expectations, 71% of consumers cited the ability to view inventory information for products to be important, while only 32% of retailers surveyed were able to provide this capability.
eCommerce brands, therefore, can differentiate themselves by integrating real-time inventory and other data from their commerce platforms with their digital experiences. The best way for most brands to achieve this is to use APIs to bring together the shopping cart, inventory management, and other functionality of a commerce platform together with the powerful customer interface and design capabilities of a frontend platform.
Consistency
For the overwhelming majority of consumers, consistent digital customer experiences across touchpoints is critical . For example, when customers add items to their shopping cart on a mobile app, they expect the changes to immediately sync to the eCommerce brand's website and other shopping platforms.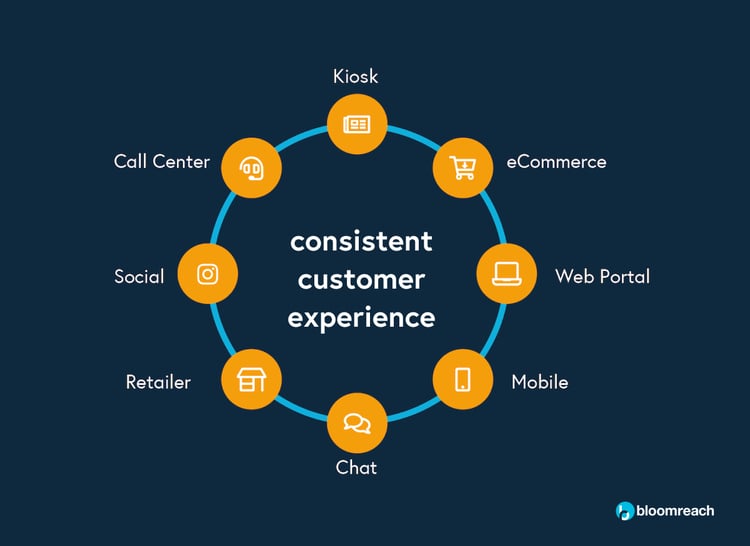 While this level of consistency can be challenging for retailers, it's becoming an expectation for consumers. In fact, a recent survey found that nearly two-thirds of shoppers want a consistent level of service across physical and digital channels, and more than half of shoppers expect a frictionless flow of information between multiple channels. Many brands achieve consistency by adopting a headless approach to digital experiences, which enables them to centralize customer data and share this information with numerous frontends using APIs.
How Frontend Experience Platforms Improve Digital Experiences
A frontend experience platform enables brands to manage a seamless shopping experience across a range of websites, mobile sites, and other customer touchpoints. These platforms can integrate with the company's backend commerce platform, product information management (PIM), checkout functionality, and other business applications to drive personalized and feature-rich shopping experiences. On top of that, they decouple the backend layer from the frontend layer and provide a much faster and therefore smoother shopping experience.
Using a frontend experience platform (FXP), brands can build omnichannel shopping experiences that are consistent across touchpoints. This is crucial for customer loyalty, as surveys have shown that businesses with an omnichannel strategy achieve 91% year-over-year customer retention rates.
Moreover, FXPs help companies integrate multiple backend applications to take a more experience-led approach for delivering digital experiences. An FXP can be the perfect head for headless commerce projects or frontend for existing shopsystems, sharing data between multiple backends or other eCommerce applications like CMSs, site search providers, personalization engines, and more. Such an agile approach allows companies to offer consistent shopping experiences, while building faster and more responsive shopping interfaces.