It's far too easy in 2021 to fixate on different strategies to meet a changing buyer market, finding that silver bullet that will captivate customer attention, or a new piece of tech, but really, the fundamental changes to commerce have been far more sure, far more steady, and the vast majority hold them in our hands pockets or on our desks…
So let's all step back to a time when we all 'went' shopping… We surely remember those elements that contributed to our overall shopping experience; exciting and captivating store design, beautiful shop fronts and helpful staff - sounds familiar right?
Back then there were fewer options for alternative commerce strategies, the tangible and important elements of why we came back to shop can and should still percolate to all aspects of a buyer journey digitally too, despite the methods of delivery being different.
Since so much has changed in the world of commerce from bricks and mortar being the only option, channelling and prioritising the most successful elements into a digital strategy can be a challenge, so let's explore the most pervasive trends brands must understand, embrace and conquer to employ a 21st century content strategy.
But, does Mobile Matter Most?
Growth is great and all, I hear you cry but why should I invest time effort and energy when I already have a pretty good mobile journey?
"More than 50% of all online traffic is sourced from mobile phones"
Statista
"Mobile-commerce sales have increased by at least 40% on a global scale since 2017"
The London Economic
But…
"Only 18% of small enterprises and micro-businesses currently have a 'mobile-friendly' websites."
The Independent
And...
"51% (of consumers) still find it harder to make a purchase on mobile, than on a desktop site version."
Forrester

How can your brand stay competitive in the ever evolving eCommerce landscape?
With online commerce irreversibly here to stay and with more than 50% of all online traffic sourced from mobile phones (Source: Statista), there is a common trend within mobile commerce expansion, the role of the mobile phone.
But, how does your brand, online presence and product become visible when the property in question is roughly 6X2.5 inches? In a world where users access quality, layout and presentation critically on all digital channels, the gauntlet has really been thrown down by the customer - and now brands and retailers must adapt fast to meet this behemoth of a customer cohort.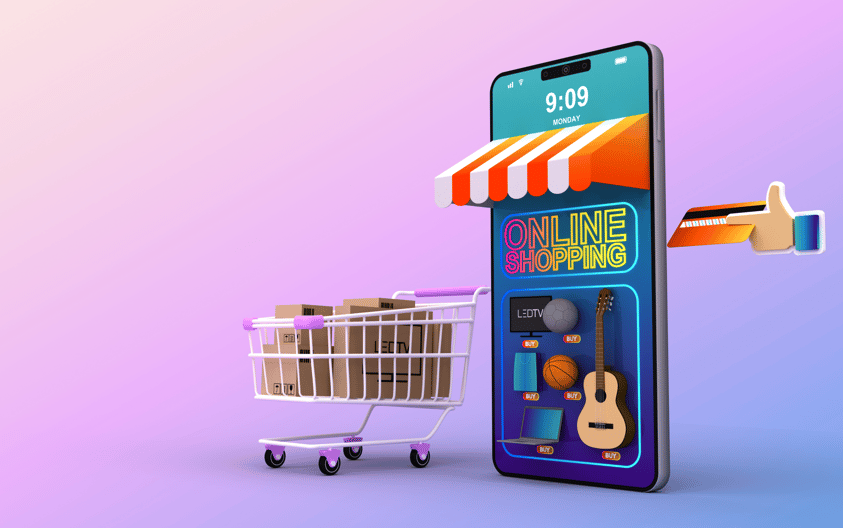 Putting the importance of this challenge in context:
According to The London Economic, mobile commerce sales have increased by 40% on a global scale since 2017, however, a surprisingly small portion of mid-size brands have a fully optimised mobile-friendly website. Forrester reports that 51% (of consumers) still find it harder to make a purchase on mobile than on a desktop site version. Customers are falling through the cracks where mid-market brands have not risen to meet the challenge.
Imagine a scenario - where a bricks and mortar shop looked run-down, dilapidated, un-loved, maybe cluttered and difficult to navigate once shoppers were coaxed inside - the same challenge exists for mobile shoppers. Without the devices to keep you in-store (think helpful shop assistants), your customers will leave you often to find a better layout or a shop where more has been invested into, perhaps your competitor?

The reality is that most mobile experiences follow the trend outlined above, and underinvest in technology to optimise this experience. Few people would accept a queue to see a physical store's items - unless specifically cool, interesting or limited in number. So, why subject mobile browsers to a similar poor experience?

Mobile does matter most, but how do we meet the needs of the modern shopper and what can be done to help brands and retailers not fall into this trap? Let us show you some key factors and simple, effective steps to consider for improving your mobile content strategy.
Optimise your website for mobile
Focus on having a mobile-friendly website
Use less heavy content
Analyse your mobile customer behaviour and shape your website accordingly
Improve your category pages and search function on mobile
Optimise your Pagespeed
Invest and optimise within your tech stack
Reduce Javascript on the website
Be sure to use mobile compressed images
Collaborate with your agency - are there better tools available to improve the overall content performance, page speed and better support customers?
Evaluate your content
Check if your content is still relevant
Keep your content fresh
Do a spring clean of any legacy tags, script, videos or HTML that is slowing you down
Explore Headless options
Break away from monolithic backend
Explore headless for fast load times and their effect on conversion
Test decoupled headless CMS for ease of content management and faster website load
Try a PWA
Give your store an app-like feel - offering an alternative mobile friendly method
Offline browsing (but not buying) for when mobile signal is poor
As you can see, the move to mobile commerce is not far in the future - it's here, and growing fast.
Evaluate your mobile traffic split, reach out to your customers via their preferred channel and provide them with a beautiful shopping experience.
There are available tools to optimise and scale content and site quality across all devices - be sure not to omit mobile browser importance from your channel strategy - make it part of the strategy.
Styla can help you achieve tremendous mobile page speed, one of the crucial elements for your organic search ranking, and with our software you can save a lot of time when creating beautiful digital experiences for your customers. Feel free to get in touch!