These are extracts from our "Ultimate Guide to Content Marketing for Ecommerce", where we're sharing the chapters one by one. If you don't like waiting, you can get the guide here.
***
At Styla, working with online retailers from all kinds of different verticals, there are two questions that we repeatedly hear our clients asking, more often than any others. The first is:
"We want to do content marketing, but we don't know what to write about. What is it that we can write about?!"
And the second is:
"We've been publishing a lot a lot a lot, every single day, honestly, look at this, we have proof, but we don't see any results! Content marketing doesn't seem to be working! Why is it not working?!"
I have both answers for you, but you might not like what you'll hear.
Ugly Truth Number 1: If you don't know what to write about, you probably don't know what you're writing it for.
Ugly Truth Number 2: If your content marketing isn't working, you probably not doing it right.
The thing is, when it comes to the commerce part of a retail business, brands usually base their decisions on a clear, solid strategy. But when it comes to the content part, they, more often than not, base their decisions on guesswork. Something that is never EVER part of any strategy.
Therefore, it's the lack of data, not the lack of inspiration, that prevents you from brainstorming ingenious topics for your blog.
And it's the lack of content strategy, nothing else, that prevents you from being successful at content marketing.
"But we do have a strategy!", is a common answer.
Maybe you do. But here's Ugly Truth Number 3: If you do have a strategy, but it's not working, then what it needs is a reset.
In the upcoming series on the Styla blog, titled Content Marketing for Ecommerce, we're going to help you lay a path to your content marketing success by unveiling the necessary steps that you need to take, from A to Z. You'll learn:
How to develop a strong content marketing strategy [COMING SOON]

How to write quality content [COMING SOON]

How to do SEO for content [COMING SOON]

How to successfully distribute your content [COMING SOON]

How to monetize it effectively [COMING SOON]
HOW-TO: B2C Content Marketing For Ecommerce [Ultimate Guide]
Building a Foundation For a Content Marketing Strategy:
Reviewing your goals (and getting organized!)
In our Beginner's Guide to Content Marketing for E-Commerce, we've previously outlined the importance of having S.M.A.R.T goals. Just to refresh your memory, a S.M.A.R.T goal is a goal that is Specific, Measurable, Attainable, Relevant, and Time-Bound. But as much as S.M.A.R.T goals are important, having goals per se is even MORE important. You'd be surprised to find out how many content marketers out there produce content without a clear agenda in mind. What for? Why? For whom? They probably wouldn't be able to find an answer themselves.
As noted by Joe Pulizzi, great content marketers do two things differently than the rest: they document their content marketing strategy in some way, and they review and consistently refer to the plan on a regular basis.
Setting goals and — just as importantly — documenting them is the basis you set for your future content marketing strategy. Never create content just for the sake of creating content — or just because you "know" it's important or you've "heard" that your competitors are using it. You must first understand what you're trying to achieve here. Otherwise, from high-value content you'll be just creating "noise" — and God knows it's loud enough on the Internet already!
So please ask yourself now — and be fair! — if you really have a clear vision of what goals you have in mind.
Is it boosting sales? Or increasing customer retention? Or driving engagement? Or building brand awareness? Or getting new clients? Or maybe up-selling and cross-selling to your existing clients?
I can't stress enough how important it is to understand WHAT you want to accomplish before you decide HOW you want to accomplish it. Make a plan, stick with it for three to six months, then evaluate your achievements, and see if the original decision has given you the results you need. After all, content marketing is like any marketing strategy: you need to test your ideas to see what works and what doesn't.
Note: Before you begin your content marketing journey, though, let's do some preparation work and create a spreadsheet where you'll be documenting each and every step you make. You can either download the spreadsheet here or make one of your own. Throughout these series, we'll be calling it the "Content Strategy Spreadsheet".
In every step, we'll be filling in this spreadsheet, so by the end of the series, you'll have a complete and documented content marketing strategy. Which starts with this very first step:
STEP 1: DECIDE HOW YOU WANT TO USE CONTENT MARKETING TO GROW YOUR BUSINESS
No multiple answers — just pick one.
Sales. Help your sales team to close deals more quickly.
Product marketing. Generate interest in your product and market need.
Brand. Develop brand awareness and build public opinion.
Community. Create a fan base that interacts with your brand on social channels.
Customers. Help your customers understand your product even better, in order to get the most out of it.
Thought leadership. Develop name recognition and become a known expert in your industry/field.
STEP 2: NAME YOUR SPECIFIC GOALS
Now, name one primary goal and two or three lower-level, additional goals that you could monitor on the way. In this part, be specific — and be S.M.A.R.T. Translate your goals into KPIs, name the exact outcome you'd like to see (a complete result or a percentage improvement) and include a realistic time frame. Then, set benchmarks that will allow you to track future results. A benchmark could be sales figures, profits, a number of click-throughs, a number of leads — or, in fact, any other number that can help you measure growth. So if you're a B2C retail brand, for instance, that wants to use content marketing for sales, your goal could be to successfully increase sales in, say, the accessories department by 1% every month. Once a quarter, plan on reviewing the results of your goal to know, which strategies are working, and which need some slight (or serious!) tweaking.
Got it? Now, let's document the process:
Go to the Business Objectives box in your brand new Content Strategy Spreadsheet, and put one primary and two or three additional goals (prospecting, sales, marketing, etc.) in Column A under Business Objectives. Next, write down why you'd like to achieve those goals, and record it in Column B under Business Impact. Now, create a benchmark that will allow you to track your future results. Go to Column C, and under Benchmark enter sales figures, number of click-throughs, online mentions, blog subscribers, customers, and any other number that will help you to measure growth.
In Columns D, E, F, and G, you'll be monitoring your results on a quarterly basis, which will give you an estimate of what's been working for you and what hasn't been working.
STEP 3: CREATE YOUR CORE MESSAGE
While drafting a core message sounds like Marketing 101, the truth is, many companies out there often don't have a clear vision, even if they've been in business for years. What is a core message? The core message is the primary benefit that you offer to your customers — it might include your story or the one piece of advice you share with customers. According to Neil Patel, a core message isn't just the bottom-line reason why you're in business — it is also the guiding principle for all content you'll be producing as a brand.
Here's how to create a core message:
Start with your mission statement
What do you want to do for your customers? How do you want to influence their lives?
Based on your brand's mission statement, what is the main benefit that your readers will get from engaging with your content? If you can't decide that now, look for one central solution that you can provide to your existing customers — or one big question you can't answer when talking to them (more on that later).
Decide on few secondary messages that support your core message
To make sure your content doesn't get stale too quickly, select fewer subtopics that support your core message. This way, your content won't sound repetitive.
Here's an example from Reebok, for instance (an American-inspired global fitness brand):
Mission: Empowering you to be fit for life.
Core Message: We believe those that are fit for life will be the greatest contributors to our world.
Secondary Topics: exercise, nutrition, positive lifestyle, fitness inspiration
If you visit their blog, you'll see then that their content is wrapped around the core message and the secondary topics:
For your own brand, record all of this in your Content Strategy Spreadsheet: in Column B, write down your Mission Statement, Core Message or Question, and 3-6 Secondary Topics. You can refine the core message over time, but it's important to get it in writing now.
STEP 4: PERFORM COMPETITOR ANALYSIS
Time to monitor your competitors! Select a few brands in your industry that are successful at content marketing — these might be both industry leaders or small brands. What matters is that they use content marketing to grow their business. Your job is to evaluate their content efforts and recognize WHAT goals they're trying to achieve — and HOW they're trying to achieve them. Here's what you should do:
Identify their core message.

List the topics that they cover. Think about how those topics help your competitor to support their core message.

List the different types of content that they produce (blog posts, videos, infographics, ebooks, and even social media posts).

Note how frequently they post their content and analyze which content type is posted more often than others.

Note which calls-to-action are used in different types of content.

Try to find what your competitor doesn't manage to cover in their content marketing.

Check online reviews from users, as well as comments on the blogs of your competitors to have an idea how people respond to their efforts.
And again, document all these findings in the spreadsheet! Go to the Competitive Analysis box and fill it all in, row after row, column after column.
Try to find that special X Factor that each of your competitors are known for — that unique element that makes them stand out from the crowd. Remember, though: nobody will notice your content if it just repeats everything else on the Internet. To stand out, you need to write about something different. Something unique. Something that your competitors haven't covered before. Things like your style and personality, the depth of your information, the specific approach to the core topic, and your value proposition are your "differentiators" that will set you apart from the crowd. So look around, and think about what those "differentiators" could be. Find your Purple Cow!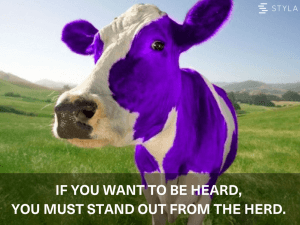 POINTS TO REMEMBER:
Understand that you NEED a strategy

— or that you at least need to review it — if you don't see any content marketing ROIs;

Review the initial goals that you first set when you started doing content marketing: increase

sales

, generate interest in your

product

, build

brand awareness

, create a

community

, boost

customer awareness

, become a

thought leader

;

Document those goals;

State your core message and distill secondary topics that your product/brand covers;

Spy on your competitors: see what they're writing about, what topics they cover, how frequently they post, etc.
Know thy niche: How to research and create a content persona
The truth about marketing is simple: if you try to target everyone, you'll hit no one. That's why, you need to have a clear idea of a niche that you want to serve, i.e. a specific group of people who are interested in the topic you write about (and potentially, the product you sell).
The key to understanding your audience lies in segmenting it down to so-called content personas, i.e. the clear representations of your typical reader that consumes your content on a regular basis. The more fleshed out these personas are, the more effective they will be — and the more successful your content marketing strategy will be, too.
Personas are an effective tool for understanding your audience and its needs. And as studies show, there's a huge perception gap between how well brands think they know their customers, and how well customers feel brands actually understand them. "Brands like to talk about how well they know what their consumers want. But the truth is, they're barely scratching the surface," says Shareen Pathak from Digiday, referring to a study done by IBM and Econsultancy.
According to that study, 81% of marketers claim that they have a complete understanding of their customers — and yet, 78% of customers claim that they feel "misunderstood". What's more, 79% of consumers feel that the information they're getting from brands is "irrelevant."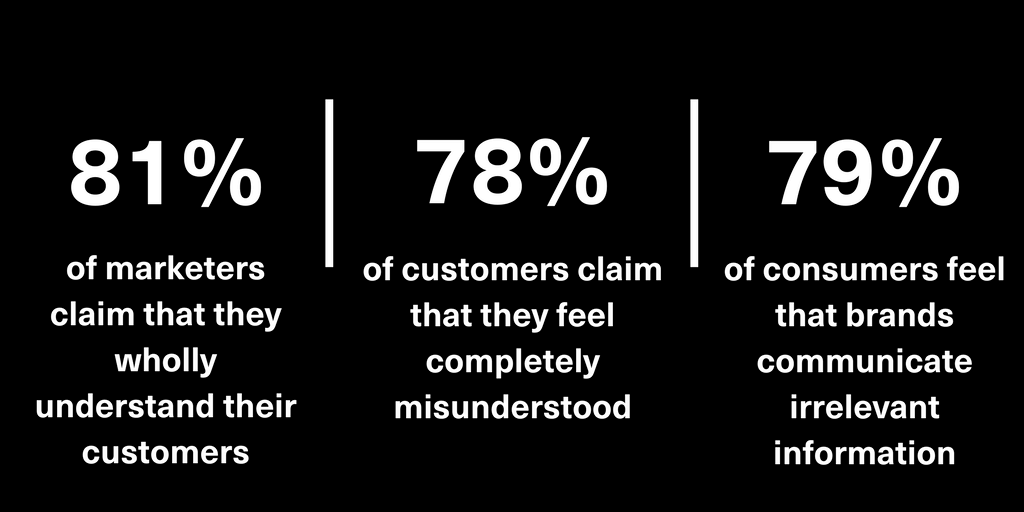 Irrelevant. That's the word most of your customers think when they get an email from you. Hurts, doesn't it?
To prevent that from happening, there's one thing you should do: create a solid content persona.
Here's how to do it, step by step.
How to research and create a content persona (in 9 steps):
DEFINING THE NICHE
STEP 1: SELECT THE NICHE
Decide who's going to be your audience. Animal lovers? Fashion enthusiasts? Be clear about your target audience.
STEP 2: REFINE THE NICHE
Also, be specific about your target audience. For example, "Animal lovers" is a clear niche, but it's relatively broad. If the niche is too broad, it will be hard to deliver targeted content to it. So in this case, opt for "cat lovers" — it is a more refined niche and could, therefore, make a better target.
STEP 3: NARROW THE NICHE
Having refined the niche, can you narrow it down even more? Going from "animal lovers" to "cat lovers" to, say, "Persian cats lovers", you're adding an element of ultra-specificity that will make it easier for you to tailor to the needs of your audience in the future.
DIVING INTO ONLINE RESEARCH
STEP 4: DIG INTO ANALYTICS
Google Analytics, as well as Alexa, Facebook Insights, Google Adwords Display Planner etc. are perfect places to collect demographic stats about your readers. Here, you can gather important quantitative data that might be relevant to understanding your persona. In particular, you should look at:
age
location
gender
income level
education level
marital status or family status
occupation
language
STEP 5: SCOUR ONLINE REVIEWS
Do you have a competitor that offers a similar product and targets a similar audience? Probably. This means that there must be a number of users who have already left tons and tons of feedback on the Internet — interesting insights that you can use to your advantage. Check out Amazon Reviews, Yelp, AppStore, GooglePlay, etc, to find out what people love and hate about a product.
PRO TIP: Using social media monitoring tools, like Brand24, Mention or Sprout Social, can also help you check on your competitors and see what people say about them.
Let's take this red lipstick by Rimmel, for example. Judging from its review on Amazon, you can already tell three pain points that you can address (and find a solution for) in your content.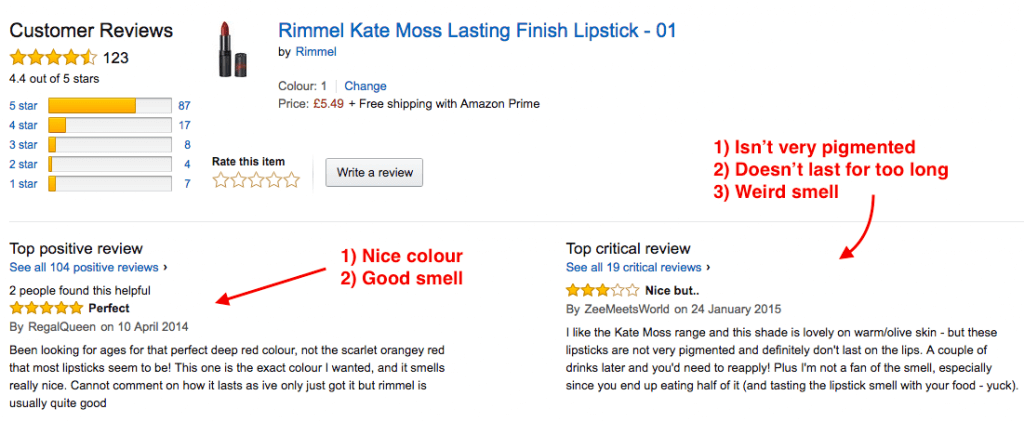 STEP 6: KEEP AN EYE ON SOCIAL MEDIA
The world of social media is extremely transparent — and for this very reason, it's a great way to get an overview of your target customer. What movies do they like on Facebook? Which brands do they follow on Instagram? What interest boards do they have on Pinterest? Social media can help you create a complete psychographic portfolio of the likes and preferences of your target audience.
personality
attitudes
values
hobbies & interests
lifestyle
language
behaviour
PRO TIP: Our content strategists at Styla recommend trying to mimic (to a certain extent) the language used by the brand's audience. This way, content will be more "familiar" to a reader and feel more "relatable".
So roll your sleeves up and dig into Facebook groups, online forums and communities, Quora, Reddit, and so on, and so forth.
GET REAL
STEP 7: GET IN TOUCH WITH YOUR EXISTING CUSTOMERS
While online research will definitely take some time, it is, in fact, just a preparation of what lies in store. To REALLY and FULLY understand your customer, you have to reach out and talk to them. Literally.
Conduct few online customer surveys amongst your existing clients, asking them a few open-ended questions and collecting relevant touch points of how those people interact with your product.
PRO TIP 1: Try out Typeform, Google Consumer Surveys, survey.io's demo survey, as well as web and exit surveys such as Qualaroo and/or Survicate
Arrange in-person interviews, and talk to your customers during events or when they visit your offline store. Practice shows that when offline, people open up more than they do online, so going personal and talking to people first hand is ultimately the best way to create a content persona.
PRO TIP 2: Ask your employees to keep a notepad at hand, so that when they deal with customers, they can write down topics that the customers are confused about, or have additional questions for. All of this information can be added directly to your list of content ideas!
Here's a list of basic questions that you need to have answers for:
How did you discover our brand?

Why did you decide to buy our product?

What do you like about the alternatives to our brand?
What are the primary benefits that you've acquired through our brand?
How can we improve our product to make it better serve your needs?
How and when are you using our product?
Every brand, however, has different goals and different products, so the questions would (and should!) differ.
STEP 8: PUT YOUR PERSONA TOGETHER
Now, you've talked to all of your customers, asked all the questions possible, gone through online forums and social media — it's taken you months, and now you have enough information to build your persona on. So it's time to segment all that quantitative and qualitative data into cohorts, i.e. groups of people who share the same characteristic.
Having reviewed your data, you'll start recognizing different patterns in their answers — your task is to create 2-4 representations of a "typical user", with his or her "typical problems", "typical questions" and "typical needs", motivations, desires, concerns, fears and aspirations.
Give your persona a name and a face. And finally, write a short but detailed description of who that persona represents.
Here's an example of a prospective customer for, let's say, a furniture and decor brand.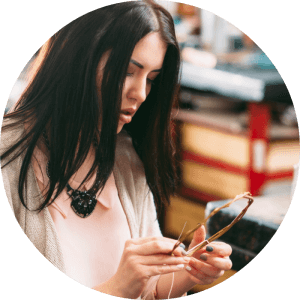 Hanna is a student of Modern Arts & Design, about to graduate next year. Born into an artistic family, she grew up in a small town in Denmark before moving to Copenhagen to do her studies. She lives in a super small apartment which she, however, tries to decorate with as much style as she can. Lack of finances pushes her to be creative. She passionately involves herself in DIY-projects, like making flower vases from light bulbs, painting on glass, or creating a shelf out of a wooden ladder. Sometimes she buys raw materials from Etsy or local flea markets, but mostly she tries to use recycled materials as much as she can. She's thinking about creating her very first Etsy shop, where she can sell small homemade items for interior decorations. She dreams of becoming an interior designer. She's also interested in photography and is very Instagram-savvy.
Hanna spends hours on Pinterest, looking for cheap, creative DIY ideas. Her favorite blog is called A Beautiful Mess, where she gets to read about interior styling, crafts, etc.
She prefers articles with a simple, relatable tone of voice, accompanied by lots and lots of photos.
Now, go back to your Content Strategy spreadsheet, and, in the Target Audience box, fill in the Niche, Descriptive Attribute (i.e. refined and narrowed niche), Demographics, Interests, Typical Questions and Pain Points into each and every persona type that you discover. It might be that you have more than one only persona, and that's fine.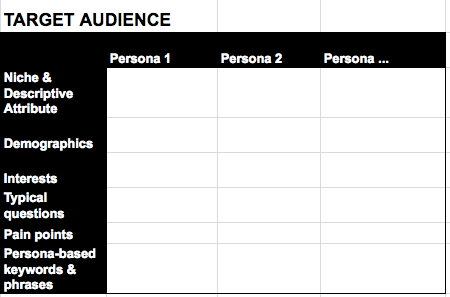 STEP 9: TRANSLATE PERSONA KNOWLEDGE INTO CONTENT
Great: now that you finally have a documented content persona, it's time to start applying it to your content by coming up with narrow, specific topics that cover the problem or concern that your content persona is having. So, for instance, instead of a general topic like "How to decorate a bedroom", you can come up with something specific like "A DIY guide to decorating a bedroom on the cheap". In the case of Hanna, you know that money sometimes is an issue for her — and now that you're aware, you can directly address this concern in your content, offering a solution that is creative enough to fit her personality.
So next time you do content brainstorming, think about the topic that will speak out to Hanna and that will provide the most value to her. And then, in the Target Audience table of your spreadsheet, insert keyword phrases based on Hanna, and every other persona that you might have discovered in the process.
Remember those secondary messages you created to support your core message? Good. These supportive messages are meant to center around your main topic and give a direction to your content ideas. The main itinerary, however, is paved with keyword phrases coined by the personas themselves — you'll come across them when you do your persona research. Once you have, go to the Target Audience table in the Content Strategy sheet, and in Column D fill in persona-based keywords (so-called LSIs) and whole keyword phrases (more on that later).
POINTS TO REMEMBER:
To be successful at content marketing, you NEED to know whom you're tailoring content for. Researching and setting up a content persona is the way to do it.
Researching content persona takes time: you'll probably need a few months to get the job done.
You can break persona-making into three different stages. First is selecting and refining the niche; Second is

online research

(including reports from Google Analytics, online reviews, etc); Third, is personally getting in touch with your customers.
The main idea is to identify a core pain point that your customers/potential audience is struggling with. Your future content should be able to address this pain point and find a solution.
Documenting your persona findings in a proper strategy spreadsheet will keep things ORGANIZED and CLEAR.
Homework's done! ? Laying the foundation and creating the persona are the obligatory prerequisites to be successful at content marketing for ecommerce. Plus, these are necessary to do before you ACTUALLY start to develop a content strategy, because that's what you build your content strategy on.
Stay tuned for the next chapter that will show how develop your content strategy based on the persona research!