As consumer expectations continue to grow every year, the most competitive ecommerce brands will be those that offer relevant and compelling experiences for their customers. That's because a positive shopping experience can drive brand awareness, sales, customer loyalty, and more.
With this in mind, many brands are increasingly looking for ways to improve their digital customer experiences through high-quality content and innovative technologies. But what exactly are digital customer experiences?
Let's take a closer look at what digital experiences are, how they impact brand loyalty and ecommerce sales, and where digital experiences headed in the future. We'll also cover how to improve digital experiences using content and ways to measure the results. Finally, we'll explore how ecommerce brands can enhance their digital experience using the right technology stack. Let's get started.
Table of Contents
What Is Digital Customer Experience?
Every interaction a customer has with a company can impact their impression of the brand. In today's hyperconnected world, these customer experiences occur across a wide range of smartphones, tablets, laptops, and other digital devices. These digital interactions are collectively known as digital customer experience.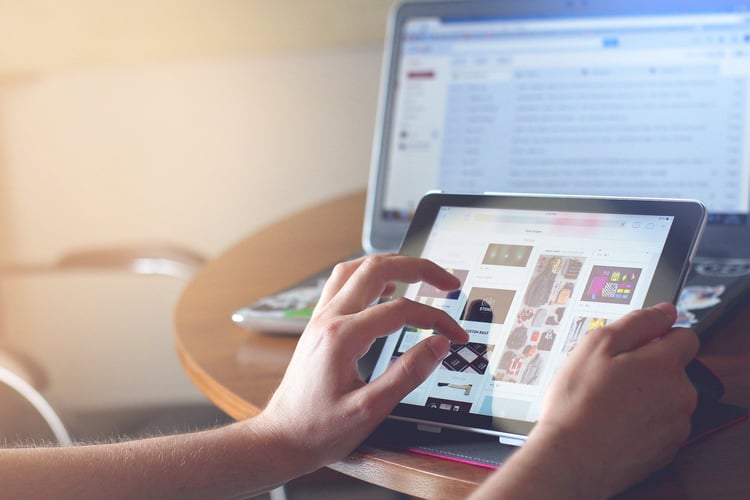 In the ecommerceindustry, the expectations their customers have for digital experiences continue to grow. It's no longer acceptable for brands to consider the user experience as an afterthought, but rather a key competitive advantage. An online store's design, shopping functionality, searchability, product information, and brand story are all becoming necessary components of effective user experiences.
Further Reading: User Experience in Ecommerce: 6 Key Trends for 2020
A key aspect of digital customer experiences is content experiences. Content experiences are the ways that a brand's content impacts customers over the long-term. This isn't just limited to content marketing but includes customer engagements with social media, videos, and more across the entire customer journey. In addition, there's a trend towards shoppable content. Content experiences are meant to drive more action from consumers, but a long or unintuitive buyer's journey can be a hindrance. By making it easier to move from initial discovery to purchasing, ecommerce companies can increase engagement and conversions. That's why many brands are launching shoppable content like images that lead seamlessly to sales pages using modern ecommerce technologies.
How Digital Experiences Impact Brand Loyalty
As many industries continue to get even more competitive, building brand loyalty isn't just about offering a great product or service. In fact, digital experiences are becoming the greatest brand differentiator among ecommerce companies.
Let's consider why brand loyalty matters for ecommerce brands in the first place. There's no doubt that competing with online retail giants like Amazon on price is challenging for smaller ecommerce brands. A loyal customer base, however, is often willing to pay more for products, buy more frequently, and become a brand advocate. For these reasons, brand loyalty should be a priority for today's ecommerce companies.
How can brands build customer loyalty through digital experiences? Here are some best practices to consider.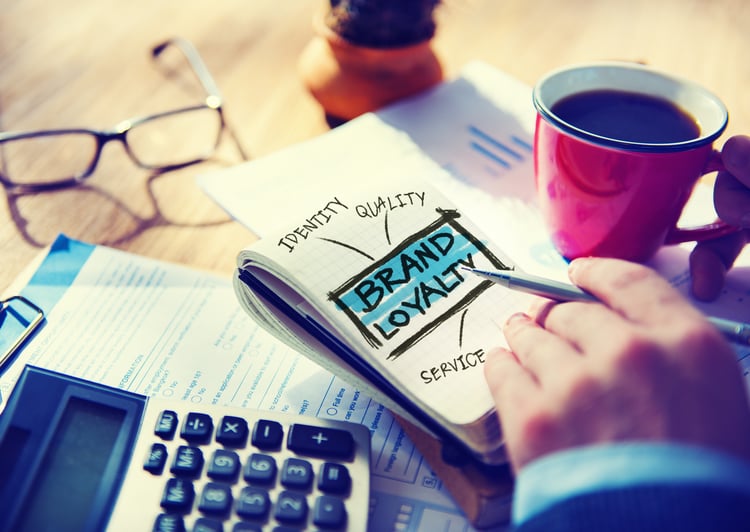 1. Consistency
The most successful ecommerce stores have intuitive and consistent customer experiences across multiple touchpoints. Consumers are increasingly using smartphones and tablets to make purchases, and they're expecting the online store, shopping cart, and more to work seamlessly on any device. Customers will be more likely to shop at an online store again if they had a consistent and positive digital experience in the past.
2. Personalization
Consumers want digital experiences to be tailored to their needs. That's why many brands are providing relevant and timely information about their products that help consumers save time, get better deals, or make purchasing decisions easier. Customers are loyal to brands that put the customer first and tailor the experience to the individual.
Further Reading: Building Brand Loyalty by improving Digital Experiences
3. Quality
Consumers don't want any friction when shopping online, so clunky interfaces and slow websites can be devastating for ecommerce brands. Optimizing web pages, however, can ensure customers continue coming back and spend more time engaging with a brand. Creating a positive digital experience is the secret to engaging and retaining customers.
Where Are Digital Experiences Headed?
We've already covered how digital experiences are all of the interactions customers have with a brand. With new devices coming online, different social media platforms becoming more popular, and technologies evolving, brands need to continue adapting to new expectations from consumers.
Let's take a closer look at some of the digital experience trends in 2020 and beyond.

Voice Search
Voice-enabled device sales continue to grow each year. Many consumers use Smart Speakers and Smart TVs to make Internet searches every day, so brands should optimize these digital experiences by targeting conversational and intent-based search queries. Some innovative ecommerce brands are even starting to offer voice commerce, which allows consumers to make purchases using voice assistants and voice-powered devices.
Augmented & Virtual Reality (AR/VR)
Augmented and virtual reality are newer technologies that can transform the shopping experience. For example, online retailers can offer mobile apps that use the phone's camera and sensors to create a real-time rendering of their products for customers. In fact, Apple's ARKit and Google's ARCore are popular tools brands are already using to create AR experiences that drive sales.
Omnichannel Marketing
With consumers using voice-enabled devices, AR/VR, and other digital channels, brands need to prioritize their omnichannel marketing strategy. This means publishing relevant and consistent content across numerous touchpoints. For example, ecommerce stores should ensure customers can seamlessly switch between different digital storefronts throughout the shopping journey.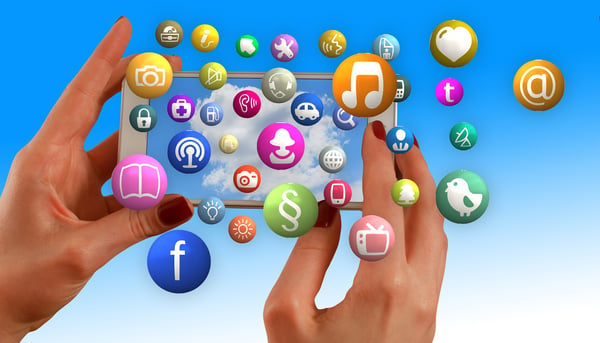 Customer Self Ser

v

ice
Many consumers want the ability to handle small issues and tasks themselves. Self-service options can save consumers and companies time and allow customer service representatives to prioritize more complex situations that require human interactions. Some examples of self-service implementations include knowledge bases, customer portals, training centers, and content hubs.
Mobile-First
If the trend continues, consumers will soon use mobile devices more than laptops and desktops for the majority of their online needs. The problem is that many ecommerce brands have viewed mobile shopping as a "nice to have" rather than a requirement. The most competitive brands, however, will put mobile first and ensure their mobile shopping experience is fast and intuitive for their customers.
Hyper-personalization
Today's consumers are expecting more than generic digital experiences. That's why many brands are leveraging vast amounts of data, machine learning, and advanced analytics to create personalized experiences in real-time. For example, ecommerce brands are using behavioral analytics to provide more relevant product and content recommendations for their customers. This improves the customer experience, and in turn, can help drive additional sales.
Consumer Privacy
As brands shift to hyper-personalized digital experiences, they'll need to be careful not to infringe on consumer privacy. Industry laws like General Data Protection Regulations (GDPR) and California Consumer Privacy Act (CCPA) require companies to give consumers more control over the personal data collected. That means brands need to ensure their customer experience include clear privacy policies and allow customers to access and delete their data.
Improving Digital Experiences Through Content
Publishing content that's compelling and relevant is one of the best ways to improve the digital experience for customers. That's why there's been a dramatic shift by ecommerce brands towards content-driven commerce.
Content commerce is a strategy to integrate relevant and useful information into the shopping experience, whether it's in the form of blog posts, newsletters, infographics, eBooks, or other digital assets. Consumers have become increasingly wary of traditional advertising, so interesting content allows brands to reach potential customers in a less intrusive and more mutually beneficial way.

Read On: How Content Transformed The Ecommerce Industry
At the same time, ecommerce brands can use content to inspire consumers to make a purchase, especially when the customer isn't sure exactly what they need yet. In the past, consumers could only search for the products they wanted, but now they're discovering content from brands earlier in the buying process. That means brands can use content to lead customers along the customer journey.
Here's a quick breakdown for creating content at each stage of the customer journey:
Awareness: the customer has discovered they have a problem and begins looking for a solution. During this stage, short snippets of highly compelling content in the form of social media posts and paid ads can capture the attention of consumers and lead them to your brand's website.


Consideration: the customer now understands their problem and starts to compare various solutions. During this stage, in-depth guides and detailed information about your industry can inform consumers and create a perception of brand authority.


Decision: the customer has narrowed down the options and chooses a solution. During this stage, informative product landing pages with compelling visuals like banners or videos can convince buyers to choose your brand.


Loyalty: the customer is satisfied with the solution, but wants to continue interacting with the brand. During this stage, a repository of guides and tutorials that's updated frequently can ensure your customers make the most of your products and keep coming back for more.
Want to learn more about getting started with content marketing? See our how-to series about B2C content marketing for ecommerce.
Tips For Making Content Personal
Along with tailoring content to specific stages in the customer journey, most consumers now expect brands to individualize their digital experiences. This means companies need to create personalized content based on information about their customers, but there are often different strategies involved.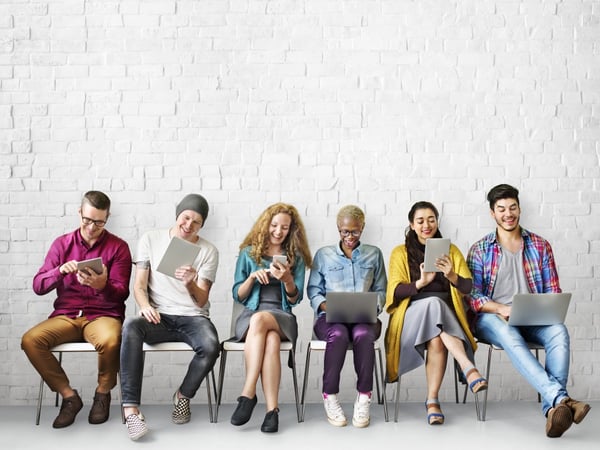 These are some of the most common approaches to personalized content:
Segmentation: marketers create content for different audiences based on their preferences, interests, or past behavior. This helps make content more relevant, but these digital experiences still appeal to large segments of consumers.


Personas: marketers personalize content for consumers based on the characteristics of their customer personas. These personas are usually created using data and anecdotal information that fit the company's specific target customers.


Individualized: marketers use AI and advanced analytics to personalize content to individual consumers rather than broader segments or personas. This shift away from the one-size-fits-all approach is also known as hyper-personalization.
As you can see, personalization at scale takes vast amounts of data to be effective. Here are some tips for collecting and leveraging customer information for a data-driven approach to content personalization.
Collect Customer Data
Increasing the relevancy of content for individual shoppers is a critical aspect of effective digital experiences. Companies need customer data, however, if they want to create highly personalized content and experiences. Loyalty programs are a way to gain an understanding of the brand's target audience without frustrating customers with endless surveys and questionnaires. That's why providing loyalty points or exclusive offers in exchange for personal information is a great approach for fueling data-driven content marketing.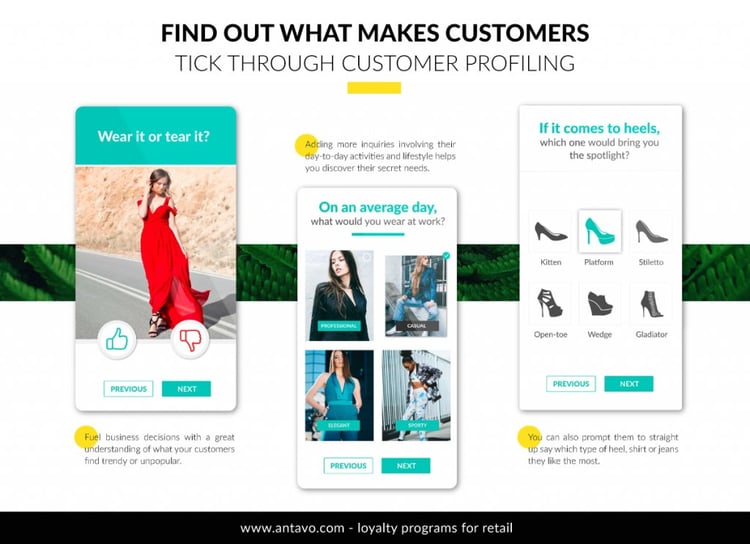 Use Behavioral Insights
Beyond basic customer information like their preferences, many brands are using behavioral targeting to personalize the customer experience. Behavioral marketing is a strategy for personalizing content based on customer activity and the ways they interact with a brand. Tracking which items customers browse through, add to their shopping cart, and have recently purchased can help brands create better content. For example, brands can publish content to engage with regular shoppers, maximize top spenders, or target specific consumer segments based on behavioral data.
Leverage Existing Data
Besides collecting behavioral insights or asking for personal information from customers directly, many brands already have an enormous amount of data available. Centralizing information from the CMS, CRM, and other business applications allows companies to eliminate data silos and create a complete customer profile. This 360-degree view of customers allows brands to create personalized content that's tailored to specific segments, personas, or even the individual.
Ways of Measuring Digital Experiences
Since digital experiences are often individual to the customer, many brands wonder how they can measure whether their strategy is effective or not. For this reason, brands will need a way to capture and analyze the impact of their content marketing and digital experience initiatives.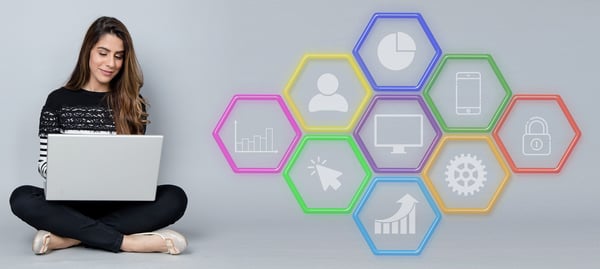 Here are some tactics and metrics that marketers should use to track digital experiences:
Feedback Surveys: asking customers directly about their customer experience and brand interactions is a great way to get qualitative insights into the digital experience. At the same time, marketers need to be careful about sending too many surveys to consumers or they'll stop responding. It's important to strike the right balance between collecting customer data and providing a seamless user experience.


Visitor Intent: this identifies why a consumer visits your website based on the search terms they used, the web page they first land on, how long they engage with your content, and more. By understanding search intent, brands can create more relevant content for search terms and reduce the friction for customers getting what they want.


Customer Churn: this is a metric that tracks the rate that customers discontinue a service or stop making repeat purchases. This is especially relevant for ecommerce brands that use a subscription revenue model. Analyzing customer churn throughout the customer journey can help brands identify which stages of the shopping experience need improvement.


Net Promoter Score (NPS): this is a measure of customer satisfaction based on how likely someone is to recommend the brand to someone else on scale from 1-10. While lower scores are detractors that may harm the brand's perception, higher scores are considered promoters that are loyal customers and more likely to spread brand awareness via word of mouth.



Customer Effort Score (CES): this represents the effort customers perceive interactions with the brand to be. For example, this could measure how long it takes to make a purchase or resolve an issue. Brands can use CES to reduce friction for customers and improve their digital experiences in the future.
Building An Effective Ecommerce Tech Stack
Today's most competitive ecommerce brands have been adapting their strategies to achieve experience-led commerce. This approach seeks to transform online shopping through consistent and personalized digital experiences across a multitude of touchpoints.
Let's take a closer look at some of the key decisions to make when building an effective ecommerce tech stack.
Monolithic vs Microservices Tech Stack
Experience-led commerce requires an agile and adaptable tech stack. In the past, many brands used monolithic digital experience suites and ecommerce platforms that aimed to provide everything merchants would need to build and deliver customer experiences, but these had limitations.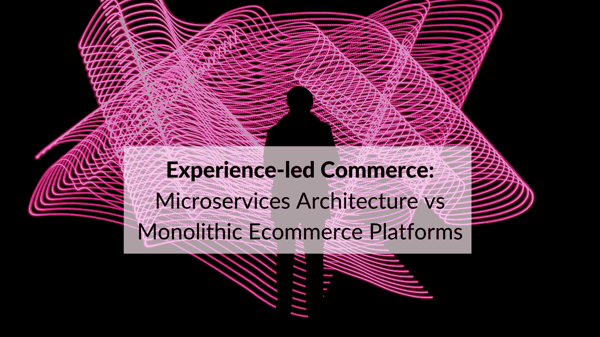 As consumer expectations have grown, online retailers have needed to evolve their technologies to deliver better digital experiences. Most vendors, however, struggle to put out updates fast enough to keep up with market trends and often fail to meet specific business needs. Most monolithic solutions are too bloated for ecommerce brands to remain agile and adopt an experience-led approach to commerce.
Further Reading: Experience-led Commerce: Microservices Architecture vs Monolithic Ecommerce Platforms
Today's brands need a microservices architecture that enables them to quickly implement and deploy individual business applications, frontend frameworks, and more to fulfil specific requirements. This is a best-of-breed approach where specialized microservices can be integrated via APIs to create innovative and custom-tailored digital experiences at scale.
The advantage of microservices is that they can be loosely coupled, meaning the functionality ecommerce brands need can be spread across different applications that are interchangeable without impacting the end-user. In fact, microservices that are integrated with APIs can more easily share data amongst each other and lead to more consistent customer experiences.
Headless Content & Commerce
Headless commerce is a microservices approach to digital experiences that decouples the frontend presentation—website, mobile, app, or other touchpoint—from the backend ecommerce and content platforms.
By taking a headless approach, ecommerce brands can reduce the time-to-market for new digital experiences and more easily adapt to consumer expectations. That's because they can easily integrate new digital customer experience tools into their tech stacks.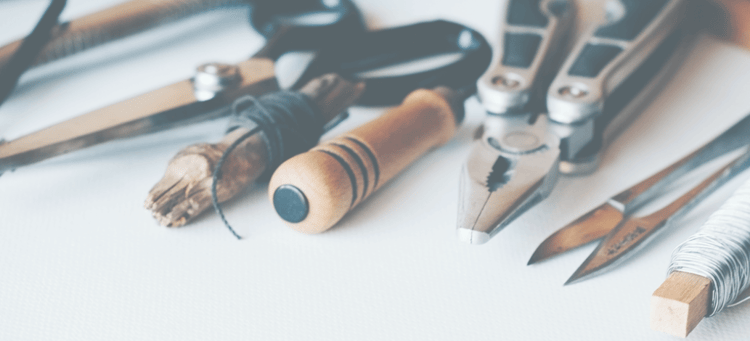 Here's a brief overview of some of the best types of tools ecommerce marketers should consider:
Social Media Tools: marketers can use these tools to better engage with customers on Facebook, Instagram, and other platforms. These solutions simplify the process for creating, scheduling, and publishing social media posts across multiple channels.


Customer Relationship Management (CRM) Software: these systems help sales teams to capture and track customer data, but marketers can also use this information to personalize content.


Personalization Platforms: these solutions use AI and machine learning to create individualized product and content recommendations based on customer data. This can include customer feedback and behavioral data, and more.


Frontend Experience Platforms (FXP): these solutions allow ecommerce brands to quickly launch omnichannel shopping experiences that are personalized across various touchpoints.


Customer Feedback Management Apps: these tools help marketers collect customer data using polls, questionnaires, surveys, and more. Oftentimes, these can be integrated with helpdesk software to automatically create support tickets as well.


Post Purchase Platforms: these tools allow marketers to personalize receipts and shipping details so that customers no longer receive generic Fedex or USPS order tracking information.


Helpdesk Software: these systems allow customer service teams to track interactions with customers about support issues and resolutions. Marketers can use this feedback to drive future content campaigns.
Wrapping It Up
As you can see, experience-led commerce requires the right tech stack and a personalized approach to content creation and delivery. This includes delivering shopping experiences, collecting customer data, personalizing content, and other essential digital experience management requirements.
More importantly, brands need a frontend experience platform that makes omnichannel shopping experiences at scale possible. FXP solutions enable a headless, microservices approach to digital experiences that ensure brands are agile and adaptable to consumer expectations.
Consider Styla—the FXP for ecommerce companies—that enables greater agility and faster time-to-market for digital experiences. Using the platform, brands can launch best-in-class digital shopping experiences using a headless commerce approach. Styla can easily integrate with your existing ecommerce platforms and content management systems to create digital customer experiences that convert.
Want to learn more about digital customer experiences? See our eBook about content experiences and the customer journey.