It almost goes without saying that distribution is an essential part of a successful content strategy. However, getting your content in front of the right people, and then growing your audience on your chosen platforms, is easier said than done. Facebook is one of the most relevant and useful platforms for both B2B and B2C companies, but many marketers are working with a completely clean slate when it comes to their online presence.
So, how do you get the ball rolling if your business page only has a couple of likes? How do you build up an audience of engaged and active potential customers and advocates from scratch? To help you on your way to social media domination, I've outlined 8 key steps you should follow to successfully build a loyal and engaged Facebook audience from scratch.
How to build an audience on Facebook
1. Cover the basics
It can be easy to overlook the most of basic of things when you're eager to start posting content, but for a professional and like-worthy page, be sure to sweat the small stuff. Don't forget to provide all your business information, as well as links to your other social media pages and a call-to-action button, such as 'shop now'. Additionally, pay attention to the dimensions of both the header image and your profile image, as getting these wrong can lead to awkwardly cut-off and pixelated photos, which is bound to put visitors off liking or engaging with your page.
Luxury menswear company Braun Hamburg have kept these things in mind to maximise the potential of their Facebook page. Clear profile image: check, CTA button: check, links to other social media pages and youtube channel: check! They've also filled out their business information such as the location of the store, and regular opening times.

2. Invite people to like your page
Inviting friends, colleagues and email contacts to like your page is this easiest way to begin building an audience. If you're starting from nothing, this is the first step you should take to gain your first 100 page likes. Sure, many of the people you invite might be doing it as a favour, and won't necessarily be your target audience, but don't forget that when a friend likes a page, it often pops up in the newsfeeds of their friends too. This means that more people will see your page (or at least a link to your page) and your brand visibility will increase with next to no effort. One thing to remember though: buying likes might seem like an easy shortcut to a successful page, but it's actually a fruitless endeavour. Those likes you bought aren't going to increase your engagement, website traffic or sales, so save your money for advertising to real fans.
3. Collaborate with and tag influencers in your industry
Tagging the pages of influencers you work with and asking them to do the same for you can help get your page off the ground. Seize the opportunity to gain page likes and followers from bloggers or thought leaders who have more of an established presence on Facebook - not only will this boost your audience, but it will also have a positive impact on your brand credibility. Take a look at this campaign from Adidas: a great example of a successful collaboration with a key influencer, athlete Paul Labile Pogba.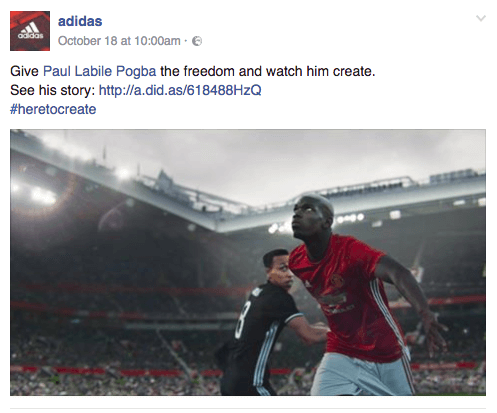 4. Produce quality content (and avoid being overly-promotional)
You'll want to start sharing content on a regular basis once your fan base begins to grow. Keep your current fans entertained and informed with relevant content, and you'll see an increase in engagement and traffic to your website (hurrah!).
The 'relevant' content for your business really depends on what you want to achieve with your social media strategy. For example, images are more likely to gain you likes, whereas link preview posts will perform better in terms of CTR. It could be that you want to try a combination of images, link preview posts and videos to begin with, but the most important thing to remember is to avoid overly-promotional content. If you liked a page, only to be inundated with sales offers from that business in your personal feed, you'd probably unlike that page without a second thought. Don't leave your fans with a bitter taste in their mouth – they'll feel as though their support for your brand was taken for granted if you try to take advantage of it with poorly-disguised advertising (and Facebook won't be happy either).
Below are two posts, one focused on storytelling, the other on sales. Needless to say, the storytelling post, which is tailored for Baukjen's target audience, is much more engaging for as it offers fashion tips and inspiration, rather than simply highlighting a product.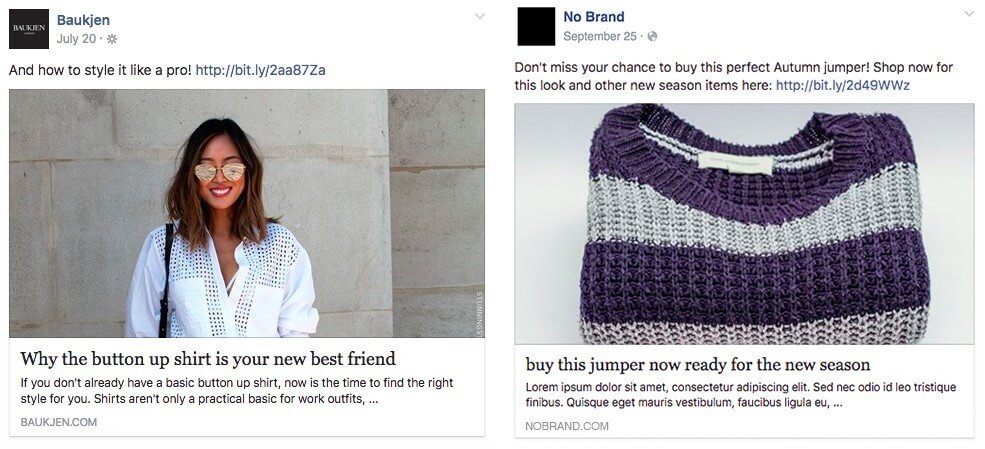 5. Carry out Page Like Campaigns (Paid Advertising)
Page Like Campaigns are a form of paid advertising which can dramatically increase your page likes on Facebook. You can select the image you want to appear in your advert, and create a short accompanying text including a call-to-action. Once you've done this, you can select the audience you want your ad to be delivered to. One option is to use the 'Audience Demographics' feature, which allows you to narrow down your audience by location, age, gender as well as interests and other liked pages.
For even greater accuracy, you can also use your company's email list to target current customers (or at least those who have already interacted with your business), increasing the likelihood that they will click through and like your page.
However, it probably won't take long for you to exhaust your email list, so where do you go from there? Well, Facebook also has a 'Lookalike Audience' feature which allows you to enter your current customer base as a model for your target audience. Facebook will target users with similar behaviours and interests – those who are as close to your current customer base as possible – to increase the chance of them liking your page and engaging with your content.
This suggested post from Hugo Boss, which popped up in my own newsfeed recently, is well put together both visually and strategically. The content provides value to the audience, focusing on a story and a concept, rather than a sales transaction. Not only that, but Hugo Boss have also tagged The Guggenheim Museum and Maja WYH, which as I mentioned earlier, is an easy way to get more brand exposure on Facebook.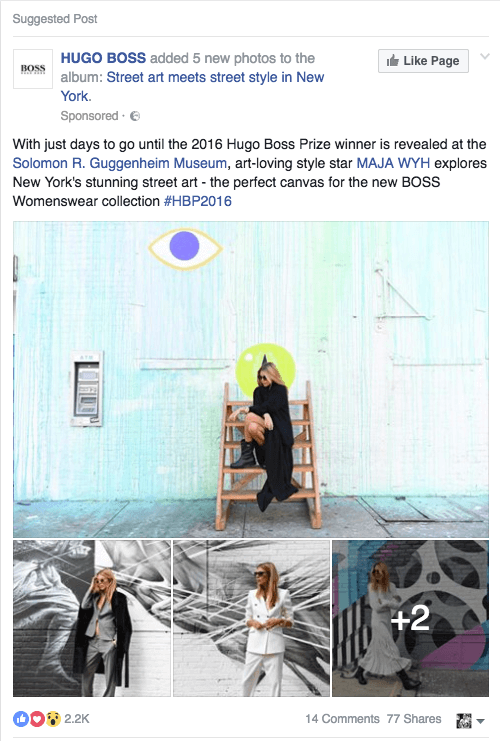 6. Boost your posts and target a defined audience
Once your campaigns are underway, it's time to invest in your content. It's a widely held belief that organic reach on Facebook is dead, and that paying for reach is now a necessity. Whether or not it truly is 'dead' is up for debate, but there's no denying that organic reach isn't what it once was. If you're a huge brand with hundreds of thousands of fans on Facebook, you might be able to reach a large number of people without boosting your posts. But when you're starting out, it's necessary to set aside some budget to ensure your content gets in front of more than just a couple of hundred people. In combination with a solid strategy, even a small budget can make a significant difference, so it's not going to leave you out of pocket.
In boosting your posts, you can reach people who haven't yet liked your page, and who may never have heard of your brand. You can also apply the same audience targeting you used for your page campaigns – or you can create an audience consisting of visitors to your website, as well as to particular landing pages such as product pages. Simply add a Facebook pixel, which can be found on the 'Facebook for Business' page, to your website to allow Facebook to track conversions.
7. Treat your page as a community
So, the fans are finally rolling in and your content is being well-received. You've discovered the key to building an audience on Facebook: surely it's time to sit back and relax for a moment? Not quite! The more you grow, the more messages and comments you'll receive from your fans. Give them the time and attention they deserve and try to reply to their enquiries as quickly as possible. Even if they're complaining – and it's always tempting to ignore or delete negative feedback – aim to reply and address the issue quickly.
It's always good to aim to have the same response rate as fashion retailer Zappos and reply to messages instantly (though full 24/7 availability might not be so practical for smaller companies!)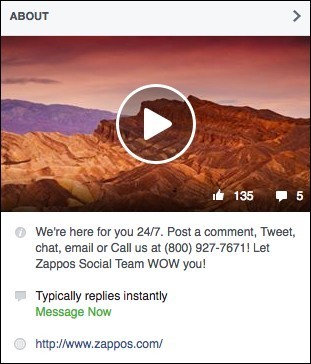 It's the approach you would take with face-to-face customer service, and it shouldn't be any different in the digital world. If you find that your Facebook page is becoming so popular you don't have the time to respond to everyone, it could be time to hire a community manager (but now we really are getting ahead of ourselves!).
8. Promote your page on your website
Use every opportunity to promote your page by adding buttons with a call-to-action to your website and to your email signature. Providing a way for people to like your page without having to actually visit your page first will significantly increase your conversion rate. Take boohoo as an example: a number of social icons linking back to the official boohoo account for each platform have been added to the footer.
Some brands, such as lifestyle blog Hand Luggage Only, actually feature a Facebook pop-up on their website landing page, encouraging visitors to like their Facebook page before browsing their website content. So, why not go that one step further and add the widget pop-up to your website too?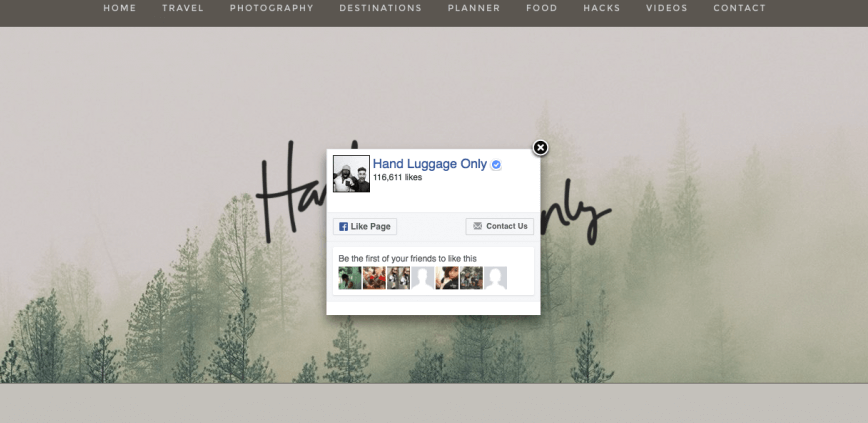 There you have it, a step-by-step guide to growing your audience on Facebook. Now back to you! Do you have any extra tips that we've forgotten to mention? Share them with us in the comment section below!
Like this? Check out

5 Effective Strategies to increase engagement & conversion for online retailers.