It may seem that e-commerce is always about being able to sell more. But that's not entirely true. Selling more isn't all that difficult – most of the time, all you have to do is to lower the price. But selling more, more often, and at a lower cost – that's the true objective of most sustainable businesses. If it's yours too, here's how marketing automation can help you achieve this.
How To Sell More With Marketing Automation:
1. Stop making assumptions.
Marketers often assume they know everything about their customers. What problems they struggle with. What will satisfy their needs.
Because of this, marketers often construct the same marketing communications plan for all of their customers, regardless of where they are in the customer journey and what they need at each stage. The result? Undifferentiated marketing messages that consumers don't like, find valuable, or want to receive.
Progressive profiling is an element of marketing automation that goes against this approach. The whole concept is about continually learning and finding out more about your audience, adding up the small bits of information based on what they tell you and what they do.
How does this affect marketing campaigns? Instead of asking your audience to provide their preferences or making assumptions, you observe their actions. You ask them one thing at a time, test different messages, and only afterward – derive conclusions. Through this, you get a wider view of who your consumers are, not just based on an individual piece of information you've put into your database.
Using modern marketing tools to do things like time your messages perfectly based on each users' actions, you can make your campaigns much more effective and stay relevant for your audience.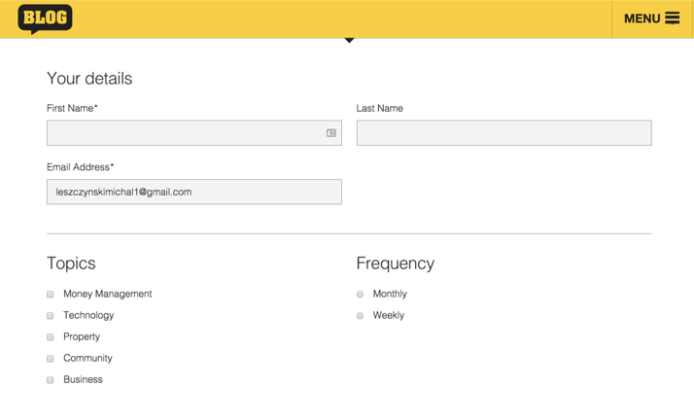 An example of how you can collect data, one step at a time, using multi-step sign-up forms.
2. Be there when they're most likely to act.
Picture this: someone who's following your brand visits your website. They search for a particular piece of clothing, such as a winter jacket. They search through the product category, check out different styles, available sizes and colors, place the product into the e-basket... but eventually end up leaving the site and not making the purchase.
Now consider that more than 6 out of your 10 customers do this, every single day. Sounds like a lot of lost revenue, right?
"More than 6 out of 10 customers abandon their shopping carts every single day."
What about this situation: someone checks out your event or a promo page. They read through all the available information but don't end up taking the desired action, such as signing up for the event, saving it in their calendar, or showing interest on Facebook.
It would be a shame if they were interested in the event but didn't show up because they completely forgot about it.
That's why you need to act quickly. First, plan the scenario and decide on what should happen if your user takes a particular action and what if they don't. Then launch the campaign, measure the effects, and analyze your results.
As you can see in this case study from a third-generation family-owned wine merchant, Zachys Wine & Liquor, automated emails can help you grow your business even by as much as 53%.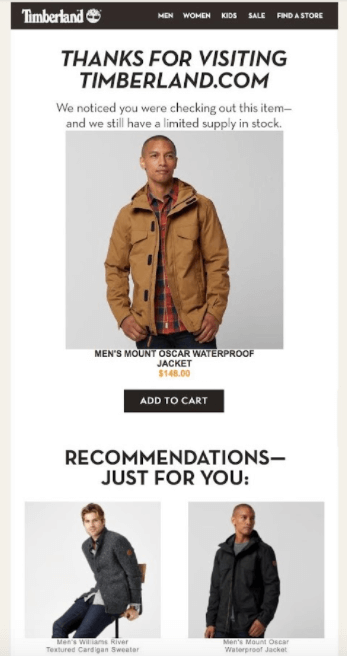 Browse abandonment email sent by Timberland.
3. Understand consumer behavior.
Constructing your offers based on relevance is very important. But knowing just what your audience likes and needs isn't always what's going to make them "click." What is? That's what psychology can tell you.
If you want to run effective marketing campaigns, you need to understand the reasoning behind your customers' actions. What is their decision-making process? What type of message will facilitate their purchase decision? Knowing this can have a major impact on your bottom line.
So where do you get this knowledge? One of the best resources I highly recommend is the book by Dr. Robert Cialdini – Influence: The Psychology of Persuasion. Another one worth reading is the book by Charles Duhigg – The Power of Habit: Why We Do What We Do in Life and Business. Principles covered in those two books can be applied readily to your marketing communication.
For example – the reciprocity rule states that we, as human beings, feel the need to repay whatever favor we've received from others. For example, when we receive a free sample, we're more likely to purchase the product we've tried. Sound familiar?
Or another one, commitment. Human beings feel the need to be seen as consistent. So if we commit to something, like starting a free trial or adding a product to a wish list, we're likely to stick to the initial choice. All you have to do is follow up and remind them that they've made a commitment and that they don't want to miss out on the chance.
These are just two examples of how you can use psychology, motivation, and persuasion to your benefit. Other ideas include:
Asking your customers to rate the products they've purchased to gain credibility and social proof

Providing instant gratification to get your new users hooked on the service and learn more about them by rewarding loyalty points for providing more details or taking an action

Getting customers excited and convincing them to make a purchase by sending a final-call sale reminder with the number of products or amount of time left to act
If you'd like to learn more about the topic of persuasion, this list of 10 books is a good starting point.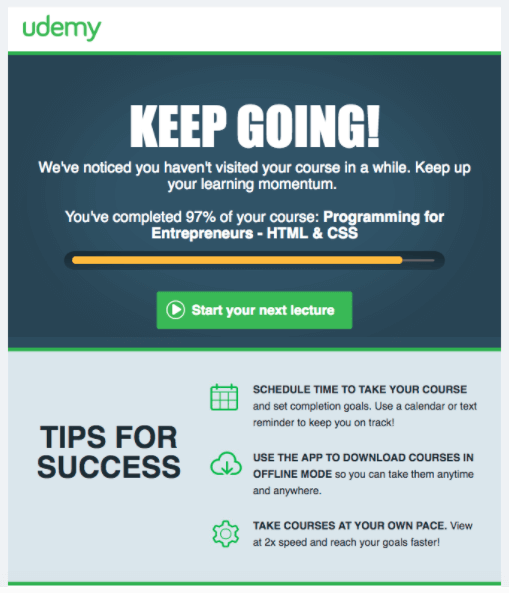 Email convincing the user to return and complete the online course they've started from Udemy.
Your call
The purpose of marketing automation is to facilitate repetitive processes that take place in marketing communication. But at the end of the day, it's just technology. It will enable you to achieve great results – only if you approach it strategically.
This means you still need to plan your marketing communication carefully. You still need to use social psychology to craft messages that will make an impact and convince your customers to take the desired action.
What marketing automation will do, though, is make your actions more effective. Contacting your consumers with relevant information at the right time will not only get your CTR higher but also turn casual buyers into loyal customers.
Over to you! Do you use marketing automation for your business?
Let me know in the comments below!