This is a detailed account of how Graziashop managed to increase Facebook reach by 190% in three months by using Styla's Facebook Consulting service. In this article, we will show you the basic technique that can bring you amazing results through content alone, and we'll also lift the curtain on the best ways to distribute content on Facebook.
So if you want to know how to significantly increase the reach of your content, read on! But before that, let's have a brief overview of what Facebook content distribution is all about.
Content is King, Distribution is Queen – and she sits on the Facebook throne.
In this modern day and age, it is hard to underestimate the power of content. We all know it is the head of the household. But we also know that without its significant other — distribution — content wouldn't get far. At the end of the day, it is the distribution that actually determines how successful your content will be.
But as the Internet has evolved, so has the nature of distribution. Before, people used to discover content on forums. Then it was emails. After came blogs and the SEO obsession. Now, however, people mainly discover content through social media. And specifically — through Facebook, the most efficient content distribution platform available today.
According to Shareaholic, Facebook is referring more traffic to websites than Pinterest, Twitter, StumbleUpon, Reddit, Youtube, Google+ and LinkedIn altogether. In fact, SocialTimes claims that Facebook has surpassed Google as a top referral source.
But even so, we've all noticed that Facebook's referral rate has dropped significantly over the last few months. Digiday reported in November that even top publishers, like Buzzfeed, Huffington Post, and Fox News are experiencing severe traffic losses because of Facebook's constantly changing algorithms. Huffington Posts' traffic from Facebook fell 60.1%, for example, Buzfeed's — 40.8%, and Fox News' dropped 48.2%.
The truth is, distributing content on Facebook is really, really freaking hard.
Seriously, though.
But there must be a way to avoid the drama, we thought. So we partnered up with Graziashop, one of our clients, to experiment with content creation and see if we can crack the Facebook distribution code. And we did!
In Three Months, We Increased Graziashop's Facebook Reach By 190%.
We started monitoring Graziashop's KPIs on August 10, 2015. In three months, we managed to increase the client's Facebook reach by 190%.
On top of that, we also achieved these great results:
8x higher click-through-rate: more and more people actually clicked on the articles shared on Facebook, directly engaging with them.
108x more traffic from Facebook: the interest in the posts led to a considerable increase in traffic coming from Facebook.
5x more returning visitors: by providing high-quality content and combining it with relevant products, Graziashop offered extra value to its website's visitors. This led to gaining a loyal readership that would always come back for more content.
8x more users coming via mobile: optimised content ensured that the transition from Facebook to Graziashop was as smooth as possible.
148% session growth: engaging content equaled longer session duration.
Bottom line: a happy client (get an in-depth look into the numbers).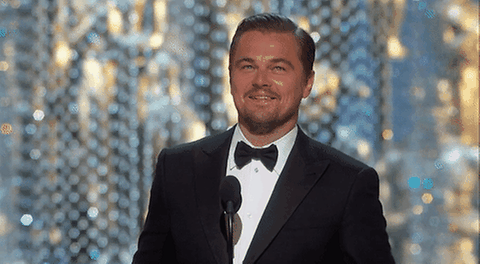 Background profile: About Graziashop
Graziashop is a retail project of Grazia Magazine, a renowned fashion editorial from Italy that has multiple international editions worldwide. As any fashion magazine out there, Grazia evokes a purchasing desire among its readers who, most naturally, want to buy what's displayed on the pages. And to satisfy the need, Grazia came up with its own e-commerce platform — Graziashop.com.
As of today, Graziashop has over 20,000 followers on Facebook, a number that grows around 2% every week. The point is, of course, not to let those fans lie there uselessly. After all, money follows attention: if the audience stays on Facebook, it will be Mark Zuckerberg who will eventually monetise it, and not you. That's why the goal is to redirect that attention from Facebook to the main website.
So how did we increase Facebook reach, after all? Here it goes, step by step.
Step No. 1: creating a content commerce platform
Following our vision "Storytelling Sells", we decided that the best way to promote Graziashop's products is to tuck them into content.
So first things first, we integrated content into the client's e-commerce platform (hello, content commerce!) by creating Your Fashion Stories, a storytelling-based online shop. The main idea was to make it look and feel like an already familiar print editorial, which would provide readers with an instant shopping opportunity.
Content commerce, oftentimes described as "the future of e-commerce", is the new trend in both marketing and e-commerce worlds that are finally brought together through the simple concept of the above-mentioned storytelling. The trend implies that retailers must become publishers in order to bring extra value to their customers and, as a result, win over their loyalty.
Step No. 2: ensuring the value of content
Content means nothing if it doesn't bring any value, be it emotional, educational or purely informative, so the point of Your Fashion Stories as a content platform was to first and foremost bring value to its readers.
Hence, the Graziashop editorial team did all they could to be extra thoughtful with the articles they decided to publish. Here are some types of content that were used, among others: a listicle, a trend-based article, and a how-to.
6 Stylish Pairs of Party Shoes That Won't Kill Your Feet
Brogues: A Love Story
Celebrity Style: White on White
Each and every one of the articles either revealed some expert tips, explored a current trend, or even explained the history behind a certain fashion piece (e.g. brogues) – all to make sure that the readers would have an education + entertainment + shopping opportunity, while enjoying the fruits of shoppable content.
An interesting point is that all of the posts had the same simple characteristics, which were perfectly tailored to the taste of Graziashop's audience:
Short form
Image-saturated
Packed with actionable advice
Step No. 3: adjusting the Facebook distribution strategy
But again, it's one thing to produce cool-looking shoppable content — and another thing to distribute it in such a way that it gets widely noticed.
As mentioned earlier, the goal was to drive traffic to Your Fashion Stories from Facebook. The main challenge here, apart from dealing with Facebook's changes in organic reach formula, was that Facebook also penalises promotional or overly commercial posts, making it very difficult for retailers to sell and for Graziashop to reach its traffic goals.
With that in mind, we decided to approach content distribution with one simple strategy:
Create Facebook posts that draw attention away from sales.
Let's take an example.
Mules (backless shoes) are back in style and Graziashop wants to sell them. So instead of writing something like this: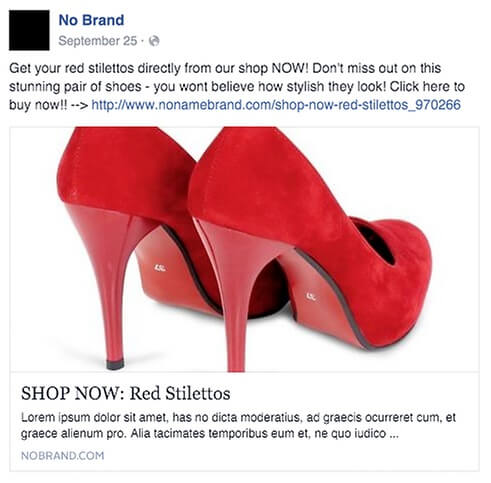 We decided to take a different approach: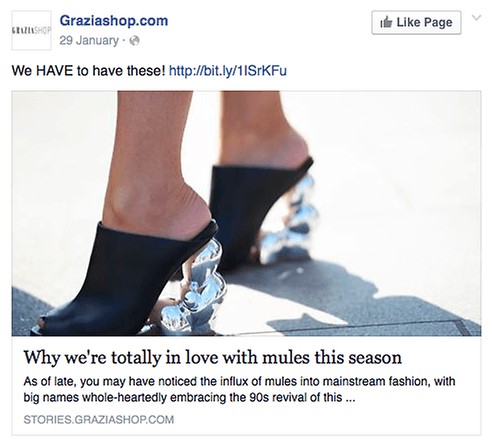 It's only when the users clicked on an article that they were presented with the variety of mules Graziashop had on offer:
The product, of course, was wrapped in a personal story, full of tips and tricks on how to combine mules with tees and skirts for a perfect fit.
What we discovered is that this type of content essentially killed two birds with one stone by engaging with the Facebook community whilst simultaneously driving traffic to Graziashop. More and more people were curious to find out what is hidden behind a title that, rather than putting the product out there, camouflaged it instead.
Learnings & Further Results
As contradictory as it may sound, it appears that putting editorial value before product boosts more interest in that product. And naturally, by increasing the reach and driving more traffic to the website, the online sales potential increases, too. That's why, when it comes to both content production and distribution, sticking to a customer-centric approach proves to drive better results on Facebook. This is a social platform, after all, so it's people who should be the centrepiece of it, not products.
So main lesson learned: put people first. That's why (and how) by carefully weaving products into engaging stories, Graziashop achieved a 190% higher reach on Facebook, topped with an impressive traffic increase and multiple returning visitors.
But the success story didn't just end there. Graziashop continued to implement the content strategy worked out by Styla Consulting team and pushed the results even further:
In another three months, Graziashop increased its Facebook reach by

additional +227%

.
Other achievements, such as referral traffic growth, retention, etc, also continued to grow significantly.