In the world of online retail, there are numerous trends to keep an eye on. Some of them we've already mentioned on the Styla blog before: it's a tight focus on selectively chosen KPIs, an increase in mobile users, the rise of social media, the growing popularity of shoppable content… There's another trend, however, that is completely transforming the way people buy fashion online – the growing accessibility of luxury fashion across all consumer segments. Luxury is no longer exclusive to the super-rich. In fact, it is being rapidly democratised, and the very meaning of the word "luxury" is being re-defined as we speak.

Brief history of luxury fashion
Back in the day, it was conventionally perceived that only lower and/or middle range products could be sold online. For a long while, when E-Commerce was already booming, high-fashion was staying out of it. There was a stubborn, pervasive belief that luxury shoppers, with their indulgent, flamboyant taste and weakness for high-priced goods, would never buy expensive things online. Instead, they'd opt for traditional brick-and-mortar stores, pursuing the tactile shopping experience and personalised customer service — something that the luxury shoppers were assumed to be always longing for.
This thinking has drastically changed in recent years.
In 2000, the world witnessed the birth Net-A-Porter — a luxury retail project which was predicted to be a huge failure and turned out to be a massive success. Natalie Massenet, the founder of Net-A-Porter, revealed that it was extremely difficult at the beginning to persuade brands to cooperate as they didn't understand the concept of luxury online shopping:
"In the first four years [of Net-A-Porter], there was a lot of desperate hand-wringing, tears and pleading with brands... You'd go through a pitch and say: 'And then you can click and buy it […] and it's delivered anywhere in the world.' And they'd listen and they'd nod and then afterwards they'd say: 'Just tell me one more thing: where is your store?'"
The ultimate success of Net-A-Porter proved that consumers were indeed willing to buy luxury products online. And what's more, they were ready to pay full, undiscounted price for them, too. Therefore, luxury brands finally started to realise — and capitalise on — the increasingly important role that the Internet has over the purchasing decisions of their clientele.
A telling statistic to illustrate: According to a study by McKinsey, by 2018 global digital sales for women's luxury fashion are expected to grow from the current 3% of the total market to 17%, for a total market size of $12 billion. At the same time, global offline sales rise only moderately, at 1-2% per year.
It has been estimated that the U.S. market consumes more personal luxury goods than any other country, spending $73 billion in 2014. To put it in perspective, this is more than Japan, Italy, France and China together.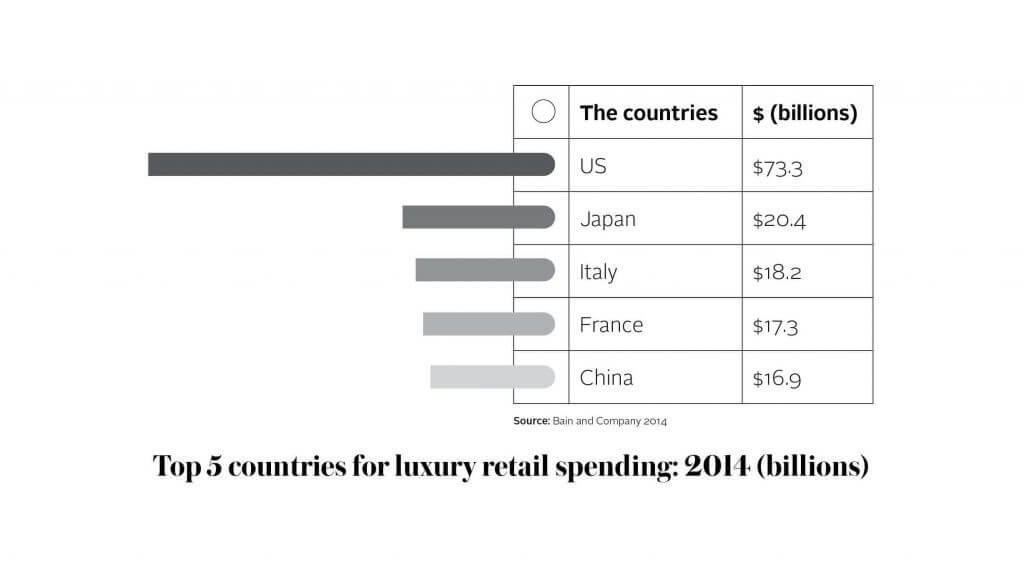 In other words, the world of online luxury fashion is thriving.
Luxury fashion 2.0
But what is "luxury", after all?
Defining luxury is not an easy task, as people's perception about what is a necessity and what is a whimsical treat is changing over time. And more often than not, this goes hand in hand with developments we see in technology.
Twenty years ago, for instance, having a mobile phone was considered to be a luxury. It was, in fact, a status symbol. Today, however, having a mobile phone is perceived to be a pure necessity. And as technology has advanced, so have the choices of today's consumers.
Let's take iPhone as an example. First launched in 2007, it was one of the first smartphones on the market — and also one of the most expensive ones, costing $499 apiece. In 2017, Apple introduced its iPhone SE, known as the "cheap iPhone", which boasted 4x higher storage capacity, 8x times better camera, etc., in comparison to its predecessor. And yet, it costs just $399. Considering the inflation rate, that's 32% cheaper than 10 years ago.
This means that the product became better and yet more affordable at the same time. In other words, what once used to be considered luxury is now rapidly becoming "normal".
In an effort to penetrate the mass market, many luxury brands have tweaked their image and their products to make them seem more accessible. However, the trick is to find a balance between appealing to a broader audience and keeping the core customer — i.e. the luxury shopper. It is a challenge. And yet, many notable high-fashion brands have already managed to blur the distinction between luxury and mass markets without risking their brand identity.
For example, Vera Wang partnered up with Kohl's, an American department store. H&M has collaborated with such renowned high-fashion designers as Karl Lagerfeld, Stella McCartney, Roberto Cavalli, Jimmy Choo, Sonia Rykiel, and Alexander Wang, among others, over the past few years. And Nordstrom is democratising high-end fashion through HauteLook — a member-only digital shopping store with flash-sales and limited-time offers discounting up to 75% off retail prices from top brands.
And speaking of all things digital, it should be noted that the Internet is a constant companion of luxury shoppers. 78% of them are reported to be using at least one online resource before making a luxury purchase decision, doing research across multiple screens (i.e. desktop, smartphone and tablet), and more and more of them are shopping online. In fact, according to Business of Fashion, digital already influences three out of four luxury purchases and will soon impact 99 percent of sales.
But let's have a closer look at what stands behind their purchasing decisions.
The many faces of the luxury consumer
Luxury consumers can be segmented based on their purchasing habits, as well as the different values that they associate with luxury. The world of luxury has a strong aspirational nature, so high income isn't the only driving element that encourages consumers to shop.
Solely in the U.S., core luxury buyers make up approximately 33% of the whole marketplace. And yet, according to Nielsen, three of the five consumer segments make luxury retail purchases, showing that more and more consumers are able to access the luxury market.
Another consumer segment, i.e. the aspirational consumers, make up about 41% of the U.S. household, leaving out the 26% of non-luxury consumers.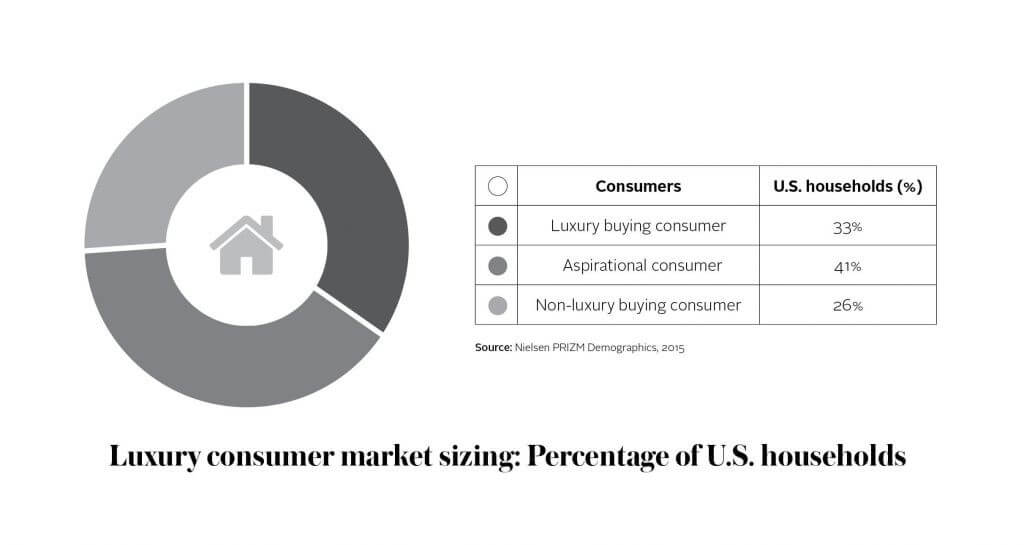 Understanding the differences between the consumers is vital: it can help retailers and brands shape their strategy on how to engage and message different segments of their audience in the luxury market.
So let's take a closer look at "who is who".
A core luxury buyer can be segmented down to three categories: an "established luxury" shopper, a "new luxury" shopper, and a "status luxury" shopper.
The first one, quite obviously, represents traditional luxury buyers who understand and value the high quality of the luxury product (and the service that comes along) and its element of exclusivity. It is rather quality than status that the established luxury shoppers are really seeking: these consumers have already "made it" and they do not need any confirmation of their social success. Instead, luxury plays a subtle role in their lives. For them, luxury is a given.

The "new luxury" type is a type of consumer that is younger, urban and that, while appreciating the quality and craftsmanship of the luxury items, sees them mainly as a status and image booster. For them, possessing a luxury item is a way to communicate their new-found success. They're looking for a possibility to reinforce the exclusivity and the premium nature of the luxury products, engaging in the hype around them. At the same time, they never forget that quality comes first.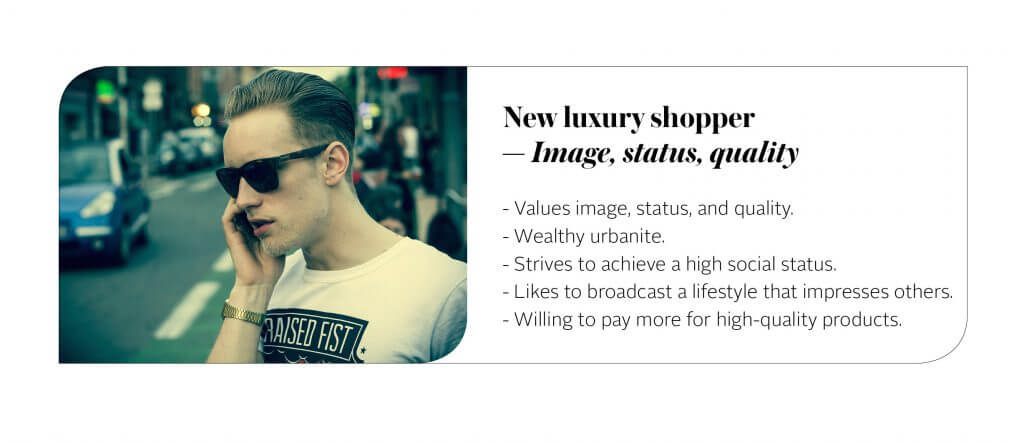 Finally, there comes the "status luxury" shopper that, similar to the "new luxury" consumer, uses luxury items as a signal of their social success. For them, however, quality of the products isn't of any importance. It is solely the pursuit of social status and an attempt to impress others that the "status luxury" shoppers have in mind. Luxury is nothing else than a pure symbol of success they're striving for.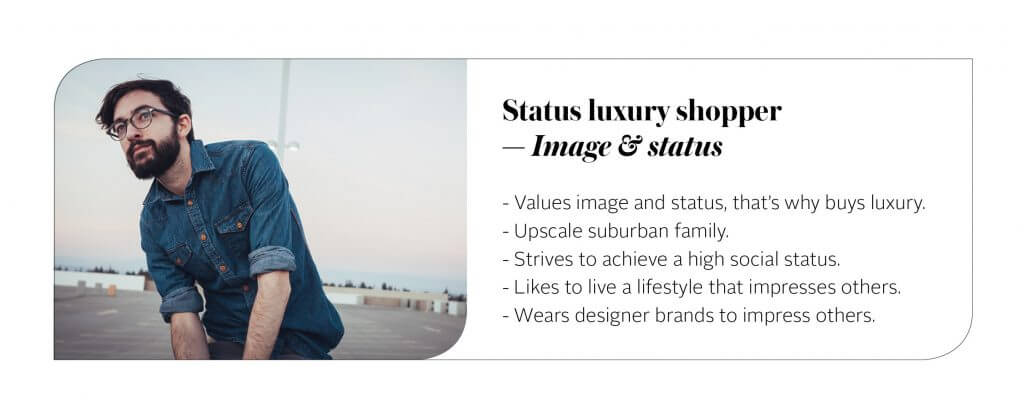 Such are the three segments of the core luxury buyer.
But as mentioned before, there's also an aspirational consumer to consider — the type of consumer that is important for luxury brands looking to grow and achieve more volume. Those consumers, both of younger and older generation, don't usually buy luxury products. And yet sometimes they do purchase expensive items — but solely as a form of reward or indulgence. For an aspirational consumer, luxury is a treat. For this reason, they place the value of the luxury items very, very highly.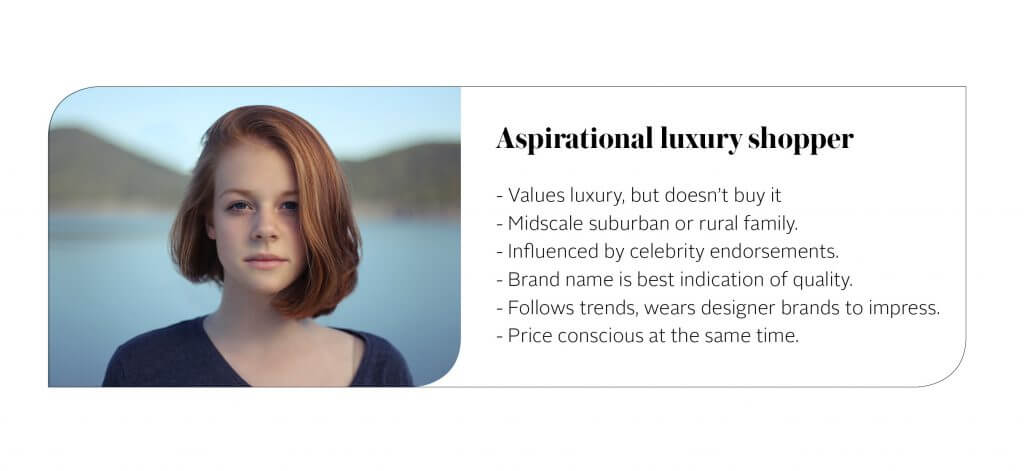 Luxury fashion in E-Commerce: it's just the beginning
As channels widen and the trend of luxury democratisation broadens, brands need to have a tight focus on developing an engagement strategy for both core and aspirational luxury shoppers. They need to understand the associations that these customers have regarding luxury, as well as the values and motivations that stand behind their purchasing decisions.
This means that more people will be spending more money — even those who have never had access to luxury brands in the past. But as we've already seen, with the massive growth pace that luxury market is going at, it's only a matter of time until each and every consumer, regardless of their social status, income, age, heritage, and purchasing motivation, will be able to afford one or ten or even more high-fashion items for their wardrobes and households.