The news is out! Styla has launched a new product on a completely new setup. Over the past 18 months, the IT and product teams at Styla have worked tirelessly to create, what we believe, can be a great value product for a market that is about to run hot - the Headless Commerce space! Now, I want to shed some light on our reasoning - and exactly what makes Styla Frontend so special.
The Mid-Market Cries Out for a Suitable Headless Frontend Solution!
We have seen great companies arise out of the thought divide between backend- and frontend focus. This follows the massive rise of ecommerce in general, which we have observed to be accelerating vastly over the past 18 months. The more a market grows, the more there is room for specialized companies yielding higher returns, which then in turn drive the growth of the market again.
The ecommerce market is following this development: the market is becoming too diverse for incumbents like Salesforce or SAP to be dominating in all areas and customer verticals. The complexity of having a monolithic system to bind everything together in one gigantic base of code, and one 'closed off' data system is becoming more and more unmanageable.
At the same time, our experience shows that many retailers and brands pay far too much for features and capabilities they rarely fully utilise. Simply put, they are bundled in the 'monolith's 1-price-package and additionally often require extensive knowledge and capability to be used by the brand or client. The famous phrase "nobody was ever fired for buying IBM" seems not to hold true anymore (if it really ever did), especially when monolithic system upkeep costs are rising and the overall performance can't match that of newer composable commerce solutions, that have their very existence justified only by beating incumbents in their respective well-defined field of expertise.
Composable Software Drives Accelerated Change
With brands and retailers passing over responsibility to the experts at a big Silicon Valley giant means losing control over what becomes the absolute key- and turning point of each commerce business: the technology it runs on!
This becomes even more true, as consumers' demands rise: research shows that when a page takes more than 3 seconds to load, 56% of users abandon it. And 20% will never return… This stands in stark contrast to the shopping reality which sees its majority coming from mobile devices and the average page needing more than 27 seconds to a full load…how many of us would accept such a delay?
As a consequence, we have all witnessed the emergence of a whole new world of independent software vendors. Each with the single, focused aim to dominate one single part of the value chain, with the knowledge that their products can work within the composable commerce space, integrating via API as the common language to all other technologies. Through this new framework previous barriers of market entry are removed, provoking a change in the IT landscape that some even describe as "democratization", as if grassroots innovation had been suppressed by the previous dominators of the industry, we now break free from!
We see entire new job roles emerging for the ones who lead and orchestrate this symphony of technology vendors, with digitally savvy top executives becoming vital positions in the management of commerce companies, using their skills and experience to curate their own collection of preferred technologies (see composable commerce).

The MACH Alliance published a survey this year that found 81% of IT leaders intend to increase MACH elements (Microservices-based, API-first, Cloud-native SaaS and Headless) into their front-office architecture within the year.
Serving the Entire Frontend is the Logical Path for Styla
Styla has been launching innovative products since 2014 when we brought our auto-designed shoppable magazine technology to the market. Users upload their content into our cloud-based editor and Styla takes care of the perfect placement of content, and links directly to products, giving consumers a user-friendly and rich interface and canvas for their shopping experience.
The shoppable magazine reinvented content marketing as we saw it, as it linked automatic emotional and aspirational storytelling with seamless shopping possibilities and experiences.
Soon after, in 2017, Styla expanded this approach to include full-site page building capability, and renamed the platform to "Styla CMS" - one of the first cloud-based API driven page builders. Specifically designed to allow marketers to produce experience driven pages across their entire website. Styla is the tool they needed to satisfy a content hungry audience.

The Styla product history so far
Since its inception, Styla has been a microservice API-based no-code cloud platform at its core. But there has always been one aspect that posed the greatest challenge: since Styla CMS is always installed on top of an underlying frontend (i.e. the one the Shopsystem provides), the value of our solution in terms of speed, manageability, installability and therefore overall perception is always entirely dependent on the performance of the underlying shop-technology itself.
Due to Styla being called by the frontend into which it integrates, no matter how fast Styla is, it is only as fast as the shopsystem's frontend allows it to be. No matter how easy to handle it is, we are just as easy to maintain as the shopsystem's frontend. Styla, therefore, had to find creative ways to allow the placement of rich content experiences into those parts that are not driven by Styla like product pages and category pages. For these, we built our dedicated "modular content" feature.
So in a way, we were limited by the quality of other systems and therefore couldn't play out all the advantages of a modern decoupled API-based solution that sits at Styla's core. And while our clients love our CMS solution for the ease of use and creative possibilities, we knew we could increase performance on a whole new level, if only our hands were untied…

The two Styla product lines
We are above and beyond excited that we are able to launch and announce that with the headless movement becoming a mass trend toward the standard modern commerce setup, Styla can finally realise our creative vision of a powerful, lightning-fast and reliable headless frontend solution.
Putting the Head Back Onto the Headless Body
This massive movement is kicking in open doors at Styla, where we have been picking our brains for many years as to how we can increase our clients' performance against the dominance of shopsystems and their often mediocre frontend components. Therefore, now is the perfect time to enter the headless world for Styla, in which Styla will take over the hosting and rendering of the entire frontend including product pages, category pages and the checkout. Simply everything a customer will see and interact with through the buying journey.
The Headless movement originated from the backend, as it is propagating to chop the head – aka the frontend - from a website infrastructure. It is because innovators in the space, such as Contentful or Commerce-Tools wanted to offer a backend without any strings attached to a presentation layer so that it could be superior both in its usability as well as in how flexibly it could be used to serve a growing number of interfaces, ranging from desktop websites to in-store-terminals to voice-command-devices like Alexa. Hence, they enforced APIs as the medium of choice to interact between back- and frontend so that developer teams and agencies can then code bespoke presentation layers in a way that is optimized for the respective use case. Everywhere we see claims like "developers love our API" or "built for developers" etc.
But what happens to the retailers and brands that are simply not able to hire top-paid resources, such as digital managers, and run their own development department to create custom-coded frontends? What if we look not at the Zalandos and ASOS' of this world, not at enterprise retailers where budgets are endless, but rather at what is still the by far most powerful company segment in Europe: The mid-market?
Frankly, why should the headless concept work for the "body" and not extend to the "head" itself? The word "headless" may be misleading as it doesn't mean simply "skip the frontend". Instead what it truly means is to split the architecture into two distinct units. The glue between the two being the API. Hence, the frontend part is dealt with independently and can therefore be passed to specialist vendors on a decoupled architecture model.

Styla's Has a Simple Mission for the Mid-Market
Styla is out on a simple mission: To get the enterprise-level headless approach and its benefits to the mid-market.
Styla removes the fuss and hassle of adding a frontend to a BigCommerce, Shopify, Shopware or Magento shop and makes it as accessible and as easy as setting up your iPhone, all with standard affordable technology.
Therefore, we now introduce Styla Frontend into the market, specifically targeted to the needs of mid-market commerce players with aspirations to deliver enterprise style experiences to their audiences. Allowing these brands and companies to grow with the same benefits, scope and scale that the headless approach has afforded to numerous enterprise players.
It will take just one week to set up Styla Frontend in its standard scope, users will need no specific education to run it and it will simply outperform alternative options in loading performance. While Styla provides that, it will be amongst the most cost-effective components of all technologies used in your tech-stack, with unlimited scope to integrate to all conceivable third-party technologies. Styla Frontend is API-first and fully customisable for any special wishes a marketing team can think of.
Cutting Edge Architecture for Lightspeed Ecommerce
It is possible to achieve this with an enterprise infrastructure that we offer at a mid-market price. A cloud-native event-based API-driven Jamstack microservice architecture prerenders all sites, packages them into tiny static HTML sites and loads them into a global content delivery network - yielding subsecond load times on mobile devices and a Google page speed score that is getting close to 100 of 100.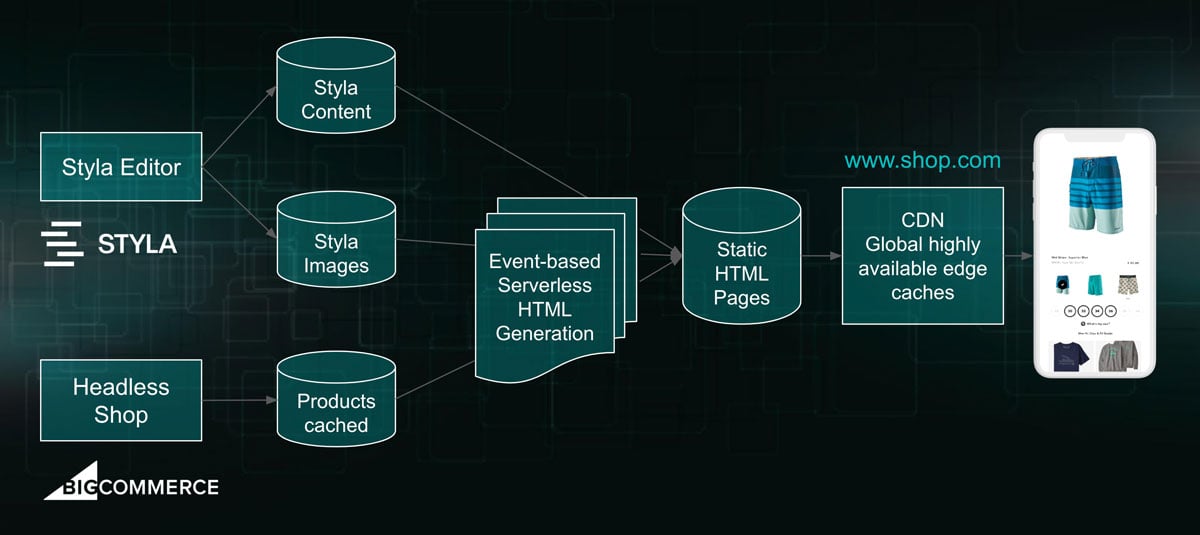 Styla's Jamstack infrastructure for high-speed loading performance and ultimate stability
Our speed advantage will yield returns quickly since delays in page speed are directly related to reductions in conversion rate. So by implementing a super fast frontend - clients will notice a significant increase in conversion rate.

How speed impacts ecommerce conversion rates (hubspot study)
Styla's Frontend solution dramatically reduces cumulative layout shift (CLS). I.e. the annoying shift of elements on a page that you thought was already prepared to be clicked and shopped on. This CLS is the new nightmare for all retailers out there since Google decided that it will alter its ranking algorithm to comprehend cumulative layout shift. This means that pages that are slow and therefore need a long time until all elements are loaded and placed will suffer twofold. First from clients abandoning it and yet again from Google penalizing it in search results. So just to stress this: Speed is evermore the dominating factor for ecommerce success.
By giving the market an easy-to-install technology, that runs on the same principles as the enterprise world, we hope to empower a huge range of players to catch up with modern performance standards and to embrace a whole new level of professionality. We want to equip the mid-market with the weapons needed to defend their participation in the race for the customer in an ever more digital commerce world.
We are very thankful for the support we have received from our agency partners and clients trusting us on this journey and look very much forward to this adventure!
HELLO HEADLESS WORLD!