Entrepreneur, investor & influencer. Columnist for Forbes, Inc, Entrepreneur, Huffington Post & more. Founded KISSmetrics, Crazy Egg, QuickSprout & Hello Bar. In other words, meet Neil Patel, the digital marketer of the 21st century.
And while there are already enough reasons why anybody would want to interview Neil, I personally had one more. Let me explain, though. We all hear that content marketing is "the thing", right? Literally everybody's on it at the moment, it is a viral trend that has become a popular drug. But as a marketing professional, I want to be sure that whenever I do content marketing and dedicate my time, resources and company budget to it, I will get to see actual ROIs. At the end of the day, content marketing is not just about "putting your brand out there" and trying your best to "shine". The purpose of content marketing is, like anything else in business, to drive sales. And since Neil is a huge KPI geek and a big "analytics junkie", as he calls himself, he is the person to talk to.
So I had a small chat with Neil the other day about KPIs, SEO and content marketing strategies. Read, learn and share!
Ula: Neil! We've met a few years ago when you were mostly engaged in growing Kissmetrics and CrazyEgg. And back then you were also involved in HelloBar and QuickSprout, from what I remember. What's your main focus now?
Neil: At the moment, just Crazy Egg and Hello Bar. With Quick Sprout we are building a new software, so it's more in the development stage right now. But then of course, there's also my personal project, neilpatel.com, where I'm teaching everything that I've learnt myself over the years about SEO and content marketing.
Ula: Many retailers and brands hear that content marketing is "the thing" — so they start a blog, write an article or two, share it on Facebook… and that's it. And then they think that content marketing is not working. What should they do make it more effective?
Neil: They should build relationships. So for example, let's take a fresh piece of content that was just written and needs to be distributed. When you write content, you naturally link to other sources, right? You do it to backup your data points, to build a stronger line of argumentation, to make your case — whatever it might be. So when you have an article like that, why not email everyone that you linked out to? Just say "Hey John, my name Neil. I have to say, I'm a huge fan of yours. So much, in fact, that I linked out my latest blog post to you — feel free to check it out here!". That's it. You might be surprised to hear this but a lot of people will actually share it. And then when that happens, the next thing you can do is to say "Cheers and thanks! PS. If you really like it, you would make my decade, not just my year, a decade, if you shared it on your site". Doing things like that will work really well.
Ula: And which KPIs should be monitored in the beginning?
Neil: At first, it's always traffic. You have to nurture your blog, improve it, grow it, and make sure that the traffic you're getting is relevant. Then, when your traffic has grown enough, you need to look at conversion. At first, it would be a micro conversion, like an email address or a lead. A macro conversion would usually be a sale, a new client or a dramatically increased customer lifetime value.
Ula: But when it comes to traffic, what's the best way to grow it? Write a lot of content very often? Or write less, but make sure it's super valuable? Or focus on a wide distribution strategy?
Neil: You should write content that is high quality consistently. Ideally, at least once a week, and if you have more time — then you can do it more frequently. But then you also need to spend half of your time on content and creation and half your time on distribution. If you don't do the distribution, you won't be successful.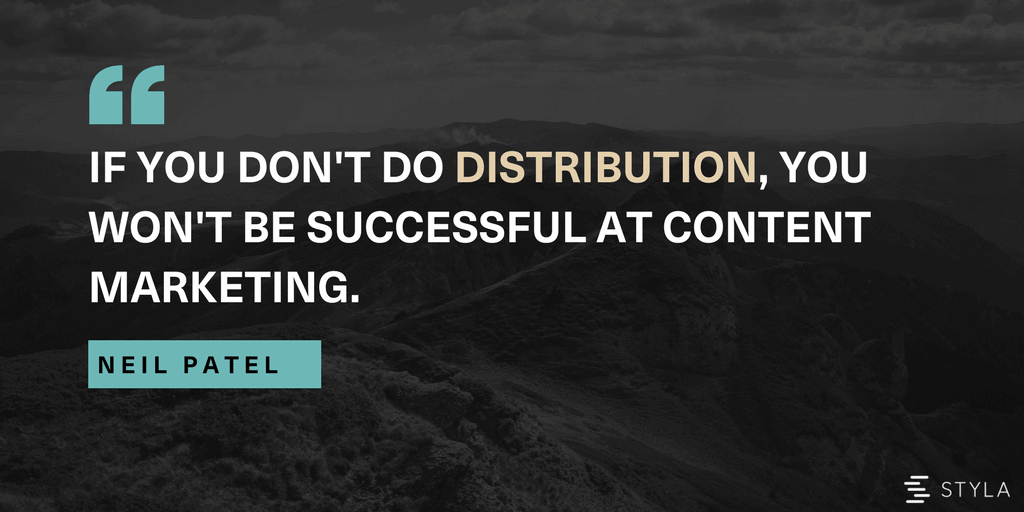 Ula: From a SEO perspective, how can we assure that content is not only inspiring but also ranks high?
Neil: You have to make sure you include the keywords within the title of the posts, but other than that, you don't need to do much from a SEO perspective. Keywords should appear naturally throughout the whole blog post — you really just have to write relevant content and keywords will appear as a byproduct. Then content starts to rank. Everyone thinks that you have to do a lot on SEO and when it comes to content marketing, but the great thing is, most of the CMSs or content marketing platforms you use to blog already have it all set up for you — from the URL structure to the headings. You just really have to write great content.
Ula: But I guess what also helps here is to make sure that your content approaches your target audience the right way, through the right medium — especially when it comes to millennials.
Neil: Yes, modern generation isn't tied up with Google so much anymore. I love Google to death but a lot of young people are on other channels now, like Pinterest. Or Snapchat. I don't see the purpose of it but I see how it is powerful. The younger generation loves it, so as marketers, we have no choice but to leverage it or we will miss out on a huge audience.
Ula: Speaking of Pinterest, last year it rolled out the so-called "Buyable Pins" and went shoppable. Instagram has also an integrated shoppability option now, and so will Youtube, too… Do you think that shoppable content has a future in e-commerce?
Neil: It's definitely an untapped opportunity — it might not be considered sexy yet, but if nobody else is using this channel, why not do it? I spend over $25000 a month on Instagram right now , and people think I'm crazy because nobody in content marketing does it. But if it converts very well, why not?
Ula: So what we're doing at Styla, for example, is create a digital version of an editorial paper magazine, connect it with clients' products from the e-commerce platform, and make content shoppable.
Neil: Yes, it is very good because you read a story, connect more with the product, you like it, you buy it, and you have instant gratification. It is amazing.
Ula: But let's go back to content marketing. From your experience, how long does it take to start converting readers into customers?
Neil: Usually, it's from 6 months to a year when you get a return on content marketing.
Ula: So it's definitely a long-term strategy.
Neil: Yes, and most people don't even get to see returns that fast. I can get a return in 3-6 months, for example. But the problem is, people often try to do content marketing for a month and then give up. I would be consistent.
When I started my project neilpatel.com, for example, my goal was to reach 100.000 monthly visitors. But I have to be honest with you — in the beginning I was a bit lazy. I didn't even care to start. In the first month, I only posted one or two blog posts, and even in the second month, I didn't try hard. But then after 3 or 4 months I said to myself, okay, let me just give it a try and see if I can do it in less than a year. So I started to write often: around 4 posts per week, and each about 3,4,5 thousand words long… Now I'm cutting down my posts and doing 7 a week but they're all around 2 thousand worlds. That way I can write more with less words per post.
Ula: And what's the current traffic you're getting now? More than 180 000 or so?
Neil: Correct. But it took me almost two years to get there. Now it grows faster, of course, because it's like a well-oiled machine at this point. So my current goal is to get half a million visitors by the end of the year, and over 1 million next year. It will probably take me two years to get there — that's why I'm working on expanding now. I have got Brazil, all the Spanish speaking territories, and plan to go into Germany, Italy, France… But the key to achieving your goals is just being patient.
Ula: Is that your most important takeaway that you've learnt?
Neil: Basically, yes. With content marketing you really have to be patient. It doesn't just open the flood gate and gives you all at once — it takes time. But if you're persistent, you'll see good scores, metrics will eventually start improving, and all your content marketing efforts will finally start to pay off.
Ula: Thanks for the interview, Neil!
Neil: Thank you.
***
Neil Patel is the co-founder of Crazy Egg and Hello Bar. He helps companies like Amazon, NBC, GM, HP and Viacom grow their revenue. The Wall Street Journal calls him a top influencer on the web, Forbes says he is one of the top 10 online marketers, and Entrepreneur Magazine says he created one of the 100 most brilliant companies in the world. He was recognized as a top 100 entrepreneur under the age of 30 by President Obama and one of the top 100 entrepreneurs under the age of 35 by the United Nations. Neil has also been awarded Congressional Recognition from the United States House of Representatives.