Content, content, content, and content yet again. Although lately, I've realized that we focus so much on the ultimate hype theme of our era (aka the content), that many of us marketers tend to forget about the equally important driver of digital success:
SEO.
And particularly, the state of SEO in 2017.
Truth is, the current status quo of digital transformation — and by that I mean the massive shift from sole, monolithic structures to micro services across the web (hello API!) — requires us all to rethink the approach that marketers have been taking on search engine optimization. Semantic search, voice search, mobile first indexing, deep learning, and RankBrain have become the new keywords to focus on as they provide an all-round picture of how SEO will look in the future.
It is, therefore, all the more important for companies to re-evaluate their strategies in this regard and adapt them. To help you out with this, I have examined 6 important developments of digital transformation to see how this reflects on SEO in 2017.
So let's get started!
First things first…
1. Mobile First Indexing and Mobile SEO 2017
Back in our Digital Trendbook, we already pointed out that Mobile Indexing is steadily taking over Desktop Indexing. But what does this really mean?

In simple words, this means that before, every time you had a desktop page, google bots would index that page first and index any alternate (aka mobile) page only later on. With Mobile First Indexing, the rules are exactly the other way around. The bots head to a mobile page directly, right away, and only after that will they pay any attention to a desktop page.
Why's that? Simple. According to Search Engine Land, nearly 60% of search queries are already made on mobile devices, so it only makes sense that Google is prioritizing mobile search. At Styla, we also see that 56% of all page views on our customers' magazines are coming from mobile devices, too.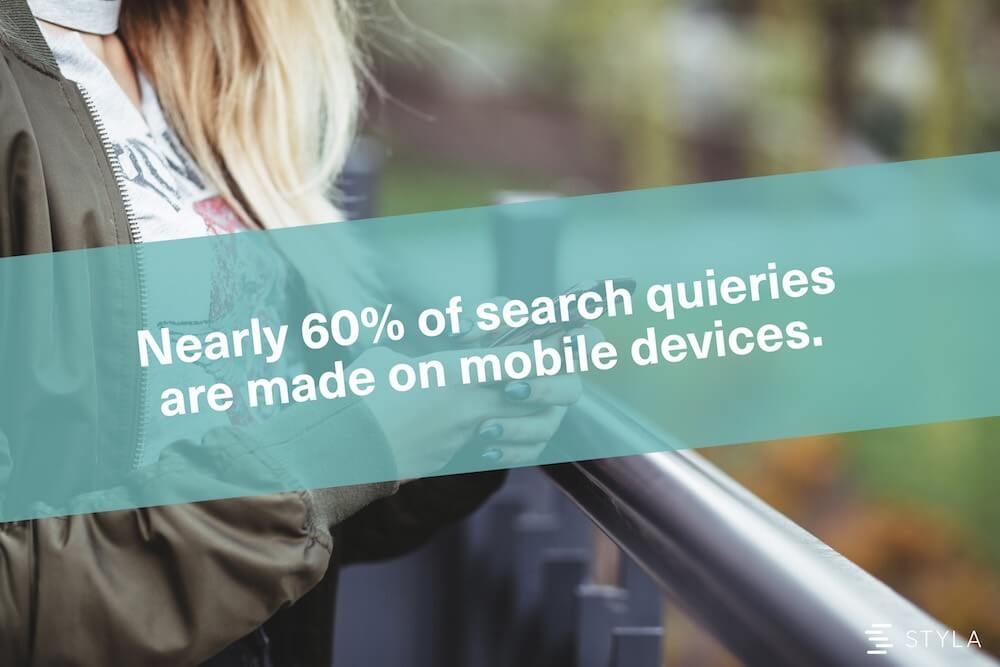 What does this mean for SEO 2017?
It means that just having a responsive design on your website, a basic requirement of today, will no longer suffice if you want to rank highly (or even rank at all). You need to make sure that everything those crawling bots used to index on desktop pages before is also available on their mobile versions:
Title Tags

Description Tags
Href = long tags
Canonical tags
Schema.org Markups
That also includes the og-tags and Twitter maps, as well as links to XML and media sitemaps and robots' instructions (on-page metas and robots.txt) that are meant to ensure that your web presence gets the visibility it deserves in the Mobile First Indexing era. We also recommend to include links to the Imprint and Privacy Guidelines on your mobile pages. And, by the way, make sure that deep links can be indexed as well, i.e. links to apps and desktop versions in your code.
In other words, you need to do everything you've always been doing regarding SEO, but now, also for mobile devices.
With tools like Google Mobile Friendly Tool or the Chrome Developer Simulator Tool, for instance, which allow webmaster to simulate mobile devices on desktop, you can better understand what a bot can crawl, in order to optimize accordingly. Also, Google Search Console or Screaming Frog allow you to examine pages with the Google Smartphone Crawler and to issue the tags that need to be verified (in order to get indexed).
2. AMP
Now that we've mentioned Google's latest update, Mobile First Indexing, we should also have a look at its logical consequence: AMP, also known as Accelerated Mobile Page, which reflects the changed, mobile-driven behaviour of today's users.
Guided by the motto "User-friendly mobile pages for all!", AMP aims to standardize mobile pages, creating fast and smooth mobile experiences with a simplified HTML5 version. AMP is cached in the cloud and not on its own server.
In a nutshell, it is based on a simple, clear formula: simplified code language + cloud cache = fast mobile page.
However, the fact that the AMP project focuses not only on the user but also on the use of Google's cloud services, is actually its downside, which is definitely critical. Either way, though, AMP is more proof of the inevitability of mobile SEO.
Note: You can find a detailed guide to AMP here at KeyCdn.com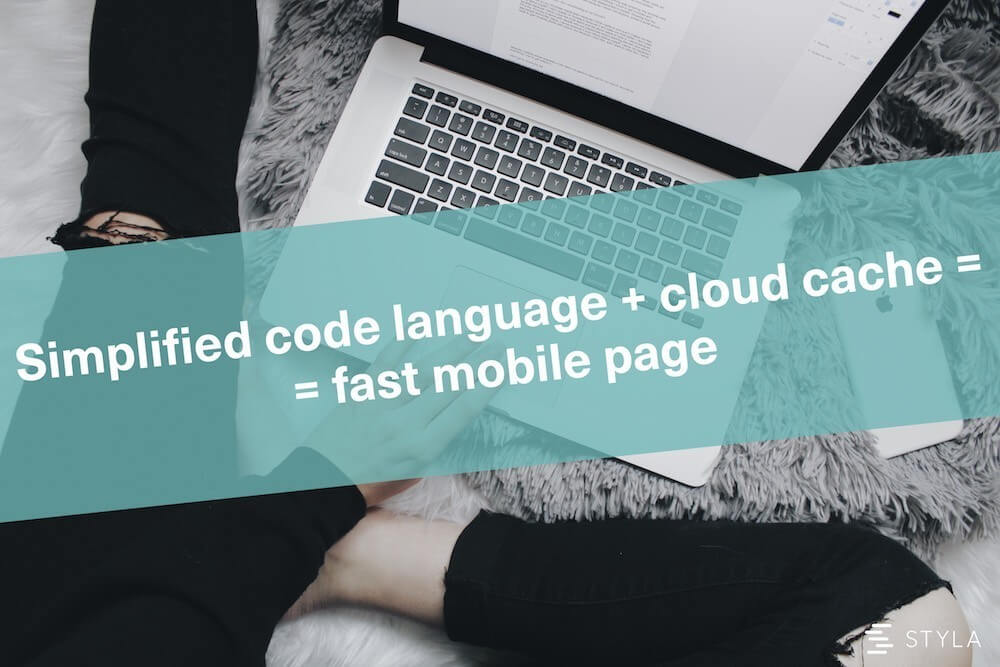 3. Schema.org, Voice Search & Direct Answers
Structured data, code readability, and clean-coding, as well as the accompanying information flow, are becoming increasingly important in the time of content overload and constantly growing versions of webpages. schema.org is a collaboration between different search engines, which has been online since 2011 to create uniform data structuring.
While "uniform data structuring" may sound boring, with its help you can ensure that your presence in the World Wide Web is prepared for two exciting mega-trends: Voice Search and Direct Answers.
Precisely for these reasons, the Styla solution works with structured data according to schema.org. In doing so, we use Google's recommended techniques, enriching our stories with information that can be understood not only by people, but also by search engines.
So what do you need to do?
First, you've got to enrich your existing content with structured data (here's where Google's own Structured Data Testing Tool would come in handy).
Then, check your code to identify and clean up dirty code lines, so that your page is able to provide decent, direct answers to search queries. This is relevant in the context of Voice Search and Direct Answers. After all, more and more search queries are essentially Wh- questions, according to the Five Ws in journalism: What? Who? Where? When? and Why?
If you're working with procedures like schema.org, you're able to provide direct answers to these questions in the SERPs — thanks to Rich Snippets — thus responding adequately to this new development.
Let's just get a little more concrete and just look at an example: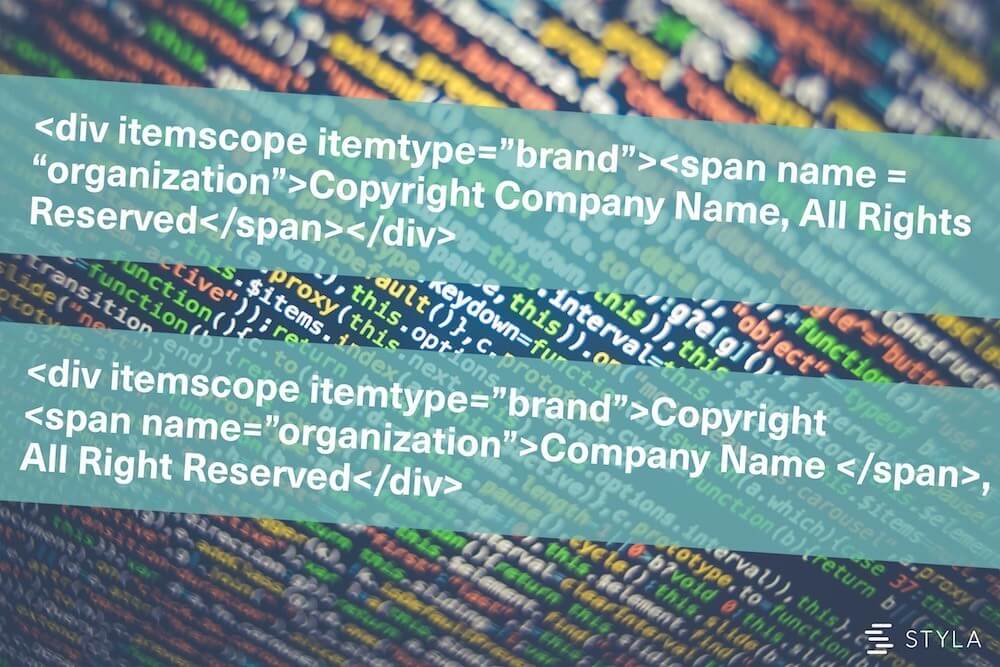 If a user searches for a group name that, say, Dove belongs to, inquiring "Who owns Dove?" on Google, the first code fragment in the SERPs would reply with Copyright Company Name, All Right Reserved, instead of Company Name. Only when the code is as clean and structured as in the second fragment, the correct answer can appear in the SERPs. Errors like these are visible with the schema.org validation tool. So the bottom line is: You better use it.
However, it's not just decent code that is important — but also decent content. It's only with well-researched, excellently written content, which covers the possibility of semantic search, that you can survive in the new SEO age. SEO content is, in contrast to the prevailing opinion, not at all dead. SEO has simply changed. Which bring us to the next important point on our list: What role do keywords play these days?
4. LSI-Keywords
Latent Semantic Indexing Keywords — these are keywords that are the main keywords in a semantic, meaning a meaning-like relation. By introducing LSI keywords in your SEO strategy, you will allow crawling bots to classify your page as relevant to a keyword without necessarily and explicitly naming it. This is because you can respond to search queries around the same keyword using LSI keywords in several ways — even without the keyword itself appearing in your content.
What exactly does that mean?
Do not focus on individual keywords. Think bigger — think boundless. Create keyword lists where you collect semantically relevant keywords and keyword phrases. Translate these LSI keywords in your content.
Soolve or AnswerThePublic are two great tools for finding LSI keywords.
5. RankBrain
RankBrain. It's Machine Learning and Artificial Intelligence galore. Almost magical. In any case, quite Nostradamus-like. Because RankBrain answers Google search queries, which no one has asked yet.
Usually, when you ask Google a question, the google bot would run and search the index for the keywords your question contains and simply match the answers according to these keywords… Now, Google can understand questions semantically, so even if no data exists in the index yet, Google would still be able to find you an answer.
This is how Google Voice Searches can answer and respond to the strangest questions as the system embeds speech into mathematical patterns. These mathematical patterns are then used to match the search with a response, with the inclusion of already existing, similar results of different algorithms. Yes, the system is learning! And is becoming increasingly wiser as we speak. This makes it all the more clear how important the optimization of your content is in terms of semantic search.
6. No Go's SEO 2017
Rumor has it that the punishment of pop-ups (aka the Google Intrusive Interstitials Mobile Penalty, which you can read about here) is no longer a rumor.
You will face penalties if you do not pay attention to usability in the course of your mobile SEO. Pop-ups on mobile pages not only prolong the load time on devices, they are also simply annoying and frustrating to the user. This is the reason why Google has dropped rankings for websites not following the rule since 10 January 2017. Therefore, marketers' favorite pop-up tools, like Sumome for instance, will become a strict no-go in the future. Especially in the mobile context.
So, with all this new knowledge in mind, bring on the new SEO year!
I'd like to emphasize, yet again, that the digital transformation is above all one thing: A universal rethinking. Areas that are separate from each other, create departments in which different topics such as e-commerce, content marketing, SEO, web development and sales are handled independently, can not adequately address the demands of our era. We need round table discussions and continuous cooperation among different departments, which should all have the same goals in common.
This also plays an increasingly important role in SEO. To disregard it as a discipline of marketing that exists alongside performance and content and acts as a whole, independent of all other areas of a company, leads to losses in future visibility. Semantic search, RankBrain, Mobile SEO or AMP all point in one direction: Together is the digital future.