Since the online shopping experience is becoming more and more significant, brands are permanently looking to improve the purchase journey. Undoubtedly, content marketing is one of the multiple touchpoints which influence shoppers' decisions. The content itself is being transformed by technology, taking e-commerce to the next level.
The question is no longer if and when marketers should embrace this opportunity, but how they should do it. Especially considering that a new Adobe survey (Mastering the Complexity of Mobile with Simplicity: 2015 Adobe Mobile Consumer Survey Results) shows that consumers have a very positive response to "shoppable media".
77% of those who viewed the shoppable site found it easier to navigate and 66% of them got enough information to make a purchase decision.
Drive more action, make your content

shoppa

ble
The key part of content creation is to drive more action; that means to make it instantly shoppable. Even the most engaging campaign won't matter if the client is forced to go through several steps to buy a product. E-commerce websites need to simplify the process of the buying funnel. In other words, to get rid of the shopping 'queue' and make the way from discovery to purchase as easy as possible. This can be done by turning visual content into a consumer shopping service.
Content creation is no longer only about the relevant text. Rather, it has to be a great combination of visually compelling images and interactive features. According to the Content Preferences Survey, (DemandGen Report) 91% of buyers prefer interactive, visual content that can be accessed on demand. When a consumer comes across a fashion trend presented on the website, it should allow him to purchase the product directly just by clicking on it. If it's not possible, there is a lost opportunity for a retail marketer. Like Mike Jones, CEO of Science, Inc. claimed for TechCrunch:
Depressed revenues, layoffs and shrinking bully pulpits are the results of an industry that doesn't quite know how to monetize content beyond selling advertising space. Today's successful digital companies know to blend content and commerce so that the content is compelling and, frankly, still sells stuff.
Big players already in the game
Although shoppable content is a very fresh trend, big players are not missing out. For example, it is now possible to purchase items from Vogue Instagram through the LikeToKnow.it application. Shoppers have to sign in to LiketoKnow.it first, and each time they like a Vogue image on Instagram, they will get an email with the product page. Net-A-Porter, ASOS are going even further, and so far they are the most successful retailers to harness the full potential of shoppable content.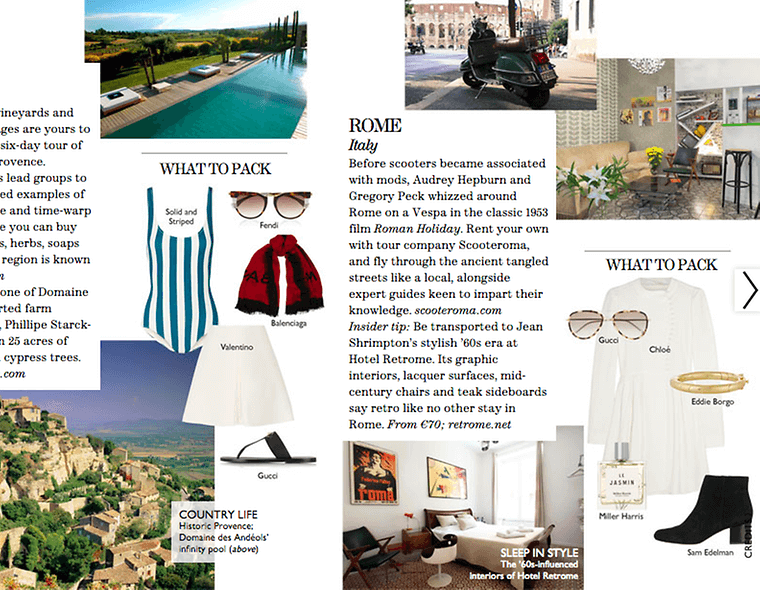 Net-a-Porter created an online magazine that is also a unique shopping platform. The content featured by the Net-a-porter journals, 'The Edit' for women and 'The Journal' for men, looks identical to any fashion magazine, but with one exception: the user can buy products directly from the presented images. Only one click on the button redirects them to the relevant product page. Another approach was taken in collaboration with British fashion label Temperley London. They've created a shoppable video called "White Magic". The aim was to provide an exquisite user experience by enabling shoppers to save their favourite items while watching the video without interruption. The wish list with all the products was available directly on the Net-A-Porter website, on the sidebar, with an option to 'shop now'. A big part of the Net-A-Porter business strategy is based on the concept of the online shoppable magazine from which customers can buy their dream products. Without a doubt, the adopted strategy of the Net-A-Porter Group is a precursor to big changes in the whole e-commerce industry. They provide not only appealing content but also completely new usage of the technology.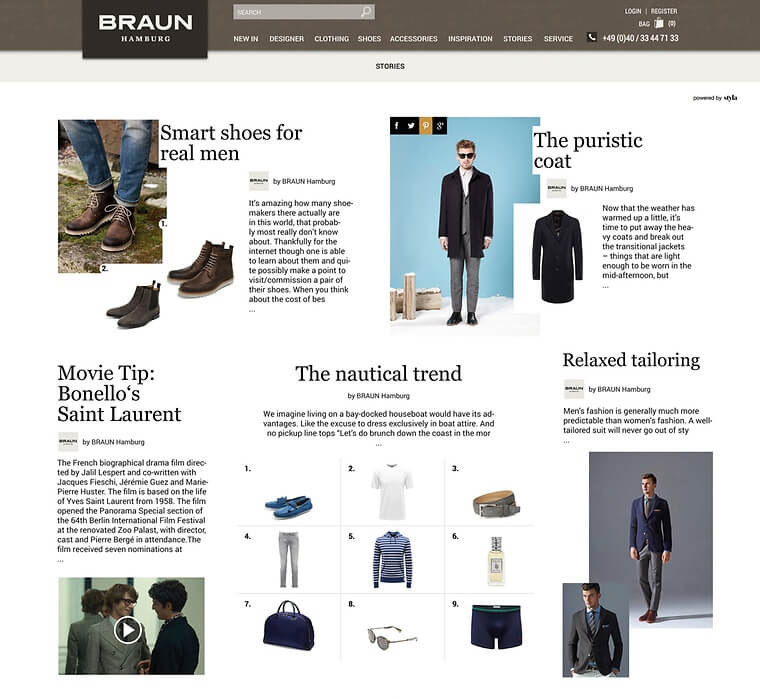 ASOS is also adapting click-to-buy videos for its global Christmas campaign. Its cross-platform advertising campaign features a series of three 90-second "shoppable films". The technology allows customers to purchase from within the video itself. Another brand that is successfully creating shoppable content is Braun Hamburg. Thanks to the Styla content commerce solution, Braun Hamburg established a platform driven by "smart" visual content that is also a consumer shopping service. They combine their product images and text into a fully shoppable magazine. With a very high aesthetic value, the brand can connect better with its consumers in places where they are looking for inspiration and are more likely to interact. At the same time, Braun Hamburg increases its sales performance.
The

new era of the e-commerce business
Shoppable content is transforming the e-commerce scene. Consumers are becoming increasingly used to new forms of retail experience. Powered by smartphones and new technology, modern shoppers are expecting to purchase items straight from the images as part of an uninterrupted shopping experience. Customers want to be able to move seamlessly between commerce platforms to 'complete' their shopping mission. It is a challenge for e-commerce marketers to create a reality where buying products straight from an online magazine will become the norm - and it has to happen without detracting from their artistry. To make it possible, brands need to upgrade their e-commerce experiences and employ shoppable features to their visual content.