In 2020, customer experience (CX) is increasingly driven by technology. Brands have already focused on serving personalized customer experiences based on the latest data across real-life and digital channels for the past years. With the ongoing social curbs in response to the coronavirus (COVID-19), the importance of digital experiences and digital customer experience tools has grown exponentially: Global online traffic has more than doubled year-on-year since the beginning of the crisis as consumers isolate at home to flatten the curve.

Now that customer journeys and purchasing behaviors increasingly shift to digital, it's time for e-commerce companies to get strategic about delivering consistent digital CX across all touchpoints and consumer-facing channels. But that can be easier said than done.
According to recent research from Econsultancy and Adobe, delivering consistent CX is a major point for the majority of companies. Looking for root causes, 'a fragmented approach to marketing and CX technology' is the main problem quoted by almost 66% of respondents in the 2019 Digital Trends Report. As the report concludes:
"Those companies that are succeeding are delivering first-class, personalized customer experiences built on a foundation of integrated marketing and CX technology."
The secret of these companies? Research found that CX leaders are four-and-a-half times more likely to have a highly integrated, cloud-based technology stack than other companies (32% vs. 7%). The benefits are enormous: In terms of revenues, CX leaders are almost three times more likely than their peers to exceed their annual business goal. To get there, this article points the way towards the right mix of customer experience software applications for the e-commerce tech stack.

Benefits of Digital Customer Experience Software
As digital CX takes the center stage, companies need to come face to face with the level of experience they can deliver. But there remains work to do: In the Adobe survey, only 10% of respondents rated their customer experience maturity as very advanced, stating that their 'strategy and technology are well aligned around CX to successful effect'. Meanwhile, 44% of companies rated their efforts as not very advanced, citing 'no real CX strategy or tech capability' as the reasons.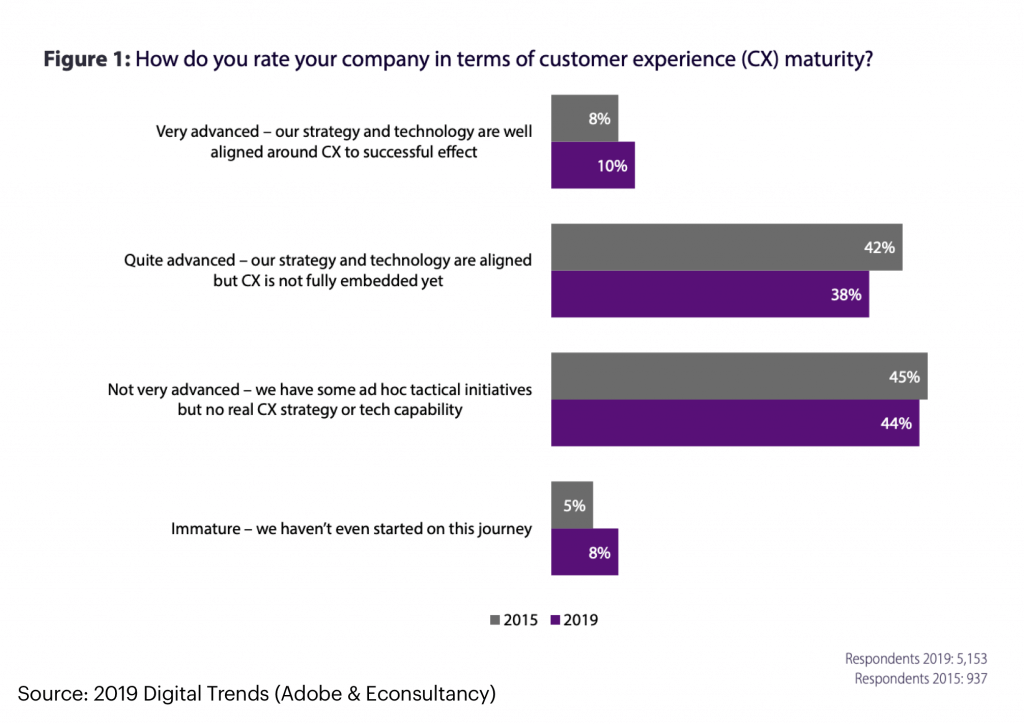 This is where customer experience software comes in. CX software enriches key touchpoints across the customer journey by combining tools for personalized consumer engagement with organizational tools on the backend. When it comes to optimizing technology infrastructure for e-commerce success, CX software offers the following benefits:
360-degree customer view.

CX software transforms broad customer intelligence into personal insights about individual customers. It captures behavioral, transactional, and preference data into customer profiles as the basis for relevant engagement. This supports a main priority quoted by

42% of marketers

; 'improving customer intelligence and insights for a holistic customer view'.

Optimized customer journeys.

Digital customer experience tools empower organizations to take a data-driven approach in their customer journey design. Detailed reports flag opportunities for improvement, including e-commerce journeys that lead to an alarming amount of cart abandonment or specific customer touchpoints that receive low satisfaction ratings (e.g. chat or call center). This is on-trend in 2020, as 'customer journey management' is currently the top priority named by

33% of large-scale organizations

.

Predictive engagement and AI.

Customer data from integrated profiles provides marketing-specific AI engines with the basis to anticipate customer behavior in real-time. Digital customer experience tools can serve product recommendations as well as dynamic content in websites and newsletters with the individual customer at the center. For

37% of larger companies

, 'delivering personalised experiences in real-time' is the most exciting future prospect and also serves customer demand for immediate responses.
The Top 10 Digital Customer Experience Tools in 2020
Building a tech stack to meet the highest customer experience principles and trends can open a world of opportunity. But it can also create headaches. In 2020, 87% of companies polled by CMS Wire admitted to struggling with customer experience tools, mostly because functionality fails to meet expectations.
With this in mind, leading e-commerce businesses are best advised to focus on a practice-proven combination of the ten following customer experience tools: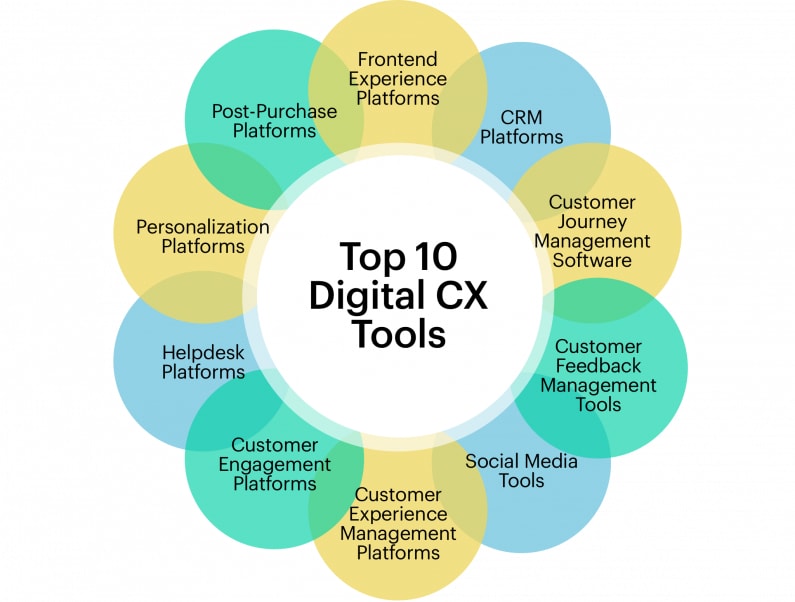 1. Customer Relationship Management (CRM) Platforms
What it does: CRM platforms combine customer data capture with a broad range of marketing automation capabilities and analysis tools. Standard functionality includes contact management, interaction tracking and scheduling/reminders. Advanced features are AI-powered sales assistance as well as helpdesk integration, with a trend towards covering a wide number of functions within a single CRM platform.
2. Customer Journey Management Software
What it does: Helps marketers produce data-driven customer journey maps, updated in real-time. Allows for creating journeys according to customer personas while tracking the performance of initiatives via impact maps and centralized reports.
3. Social Media Tools
What it does: Puts customer profile data to work by delivering personalized engagement across social media channels. In a single application, social media software helps brands to create, manage and publish content across a variety of channels. It encourages collaborative workflows while maximizing the impact of content by adapted re-use across channels. Also supports social media listening, measuring and customer data management based on social behavior.
4. Customer Feedback Management Tools
What it does: Provide a centralized and automated environment for gauging customer feedback. Allows for creating, scheduling, and conducting customer surveys, polls, and questionnaires while compiling reports on survey results. Automatically extracts qualitative data from user comments, reviews, emails or chats and allows for identifying dissatisfaction and risk of churning. Advanced solutions automatically create helpdesk tickets (see 7.) upon detecting negative feedback.
5. Customer Experience Management Platforms
What it does: Customer experience management platforms cover a variety of functionality under a single umbrella with the overarching goal of measuring the quality of overall customer experiences. To this end, platforms implement scoring systems to better understand specific moments as well as certain touchpoints in the customer journey, pointing out experiences that need improvement.
6. Customer Engagement Platforms
What it does: Taking a perspective beyond conversion and sales, customer engagement platforms manage interactions across the entire course of the customer lifecycle. They provide marketers from different teams with a single tool for managing all customer touchpoints, including CRM, calendars, social media, and email marketing. Again, the focus is wholistic and includes selling, retention, reactivation and expansion activities.
7. Helpdesk Platforms
What it does: Provides a central repository for all customer support interactions in one accessible database. Integrated with CRM platforms, modern helpdesk solutions help to keep track of customer satisfaction on an individual level in real-time. These platforms automatically assign tickets to each interaction and monitor resolution with analytics and dashboards. Integration with call center software is common next to automated survey functionality at the end of each interaction.
8. Personalization Platforms
What it does: Powered by marketing-specific and proprietary artificial intelligence and machine learning, personalization platforms convert rich customer profile data into individualized engagement. Based on past customer feedback or real-time behavior, they use AI and predictive modeling to create product recommendations and engage consumers on preferred channels at the preferred time.
9. Post Purchase Platforms
What it does: The e-commerce experience does not end at the moment landing a sale. First of all, 45% of consumers want to receive an e-receipt after an online transaction. What's more, 64% are open to receiving additional content and offers in their receipt messages. Post-purchase platforms maintain the conversation by enriching the journey with details such as delivery tracking or updates on shipments via email, push and text messages.
10. Frontend Experience Platforms
What it does: As a centralized content hub in the MarTech stack, frontend experience platforms such as Styla help to create and deliver personalized experiences across e-commerce channels. The platform puts an agile and performant frontend layer and a commerce CMS on top of online shop systems. As a result, the e-retailer can deliver a smoother, more engaging e-commerce experience with instant page loads and reduced time-to-market. That means more agility and control of shop websites with (headless) commerce, designed to let marketers and designers deploy immediate site changes. Always remember: Happy customers equal more conversions! The result is an inspirational and relevant e-commerce experience for customers.
Key Considerations for Choosing a Digital Customer Experience Tool
The secret sauce behind delivering first-in-class digital CX? In one word: Integration. Companies with a highly unified technology stack are 131% more likely to have significantly outperformed their annual business goal.
Here are three considerations for choosing the right digital CX tools for your stack:
Data integration.

Choose solutions built with integration in mind to ensure a seamless flow of customer data for a 360-degree customer view. Avoiding silos from the start – for instance between call center software and your CRM database – eliminates the need for time-intensive 'plumbing' later.
Be clear about your business case.

Only invest in software and functionality that supports your business model and the types of customer experiences you want to create. Involve the CMO and CIO in purchase decisions and research the most prominent tools in your market.
Emphasize Agility.

Look for tools that let your (marketing) teams create and update content independently, without IT support and across channels at a quick turnaround. Thereby, the software allows you to be agile and create digital experiences at scale. This approach helps to enhance digital shopping experiences with attractive content and provides a solid foundation for an e-commerce tech stack fit for a digital CX leader.
Like this? Check out

On-Demand Webinar:

Top tips for retaining customers in a competitive landscape