Customer experience - or user experience - is defined as your customer's perceptions and feelings caused by the cumulative (or one-off) effect of interacting with your employees, systems, channels and products. The customer's experience has always been a core consideration for bricks-and-mortar retail, but more and more consumers are beginning to insist on a better ecommerce user experience.

84% of customers feel that the experience they have interacting with an ecommerce system is as important as the actual products and services they buy online, leading to companies leaving over $98bn on the table every year by failing to provide a simple, user-focused ecommerce experience. In 2020, as the ecommerce market continues to grow, the digital customer experience will have to be at the forefront of business' strategies. It's no longer enough to simply have an online storefront and hope that the convenience of internet shopping will drive revenue.
As this year's market trends show, it's now more important than ever for retailers to provide rewarding ecommerce user experiences, and make use of the industry's tried and tested best practices. In this blog post, we'll examine six key trends for 2020, and recap the core ecommerce user experience best practices your business will need to embrace.
Trend #1: Customers Expect More, Customers Demand More
Customers increasingly want brands to lead with their values - a mindset which is driving higher demand for a better and authentic user experience. The novelty of ecommerce has worn off. Thanks to the ubiquity of online retailers like Amazon, consumers now expect a seamless online ordering experience, next day (or even same day) delivery, and peerless security.
2020's internet-savvy customers expect your online store to be more than just an afterthought tacked on to your in-store retail experience. They demand a rewarding ecommerce user experience.
Trend #2: Ecommerce Storytelling as Salesmanship - the Rise of Content Commerce
The most obvious trend in the e-retail market, and one that's having an immediate impact on consumers' experiences, is that every single retailer now has a story to tell, a picture to share and a video to show. Content commerce is becoming a significant driver of online sales, with retailers investing over $44 billion into their own digital magazines each year.
Whereas until recently, retailers could get away with a quick and simple online catalogue, consumers are now demanding more in-depth information, more authentic, believable marketing content, and a product or brand story which creates a genuine emotional attachment.
Customers are also reacting to stories that demonstrate how much retailers care about them, and how much time and effort have been invested in solving common customer problems. This approach is exemplified by Harry's Razors, a company that takes a simple regular purchase (razors) and build a story around their product: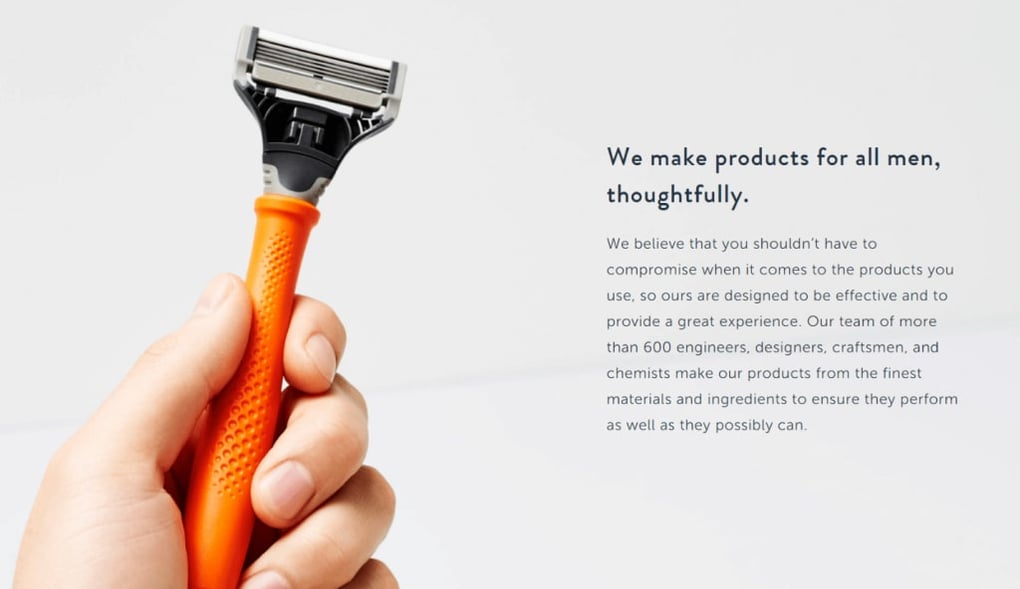 A claim as simple as "our team of more than 600 engineers, designers, craftsmen and chemists make our products" immediately engages the customer by outlining the sheer effort that goes into each and every razor blade that Harry's ship.
Trend #3: Ecommerce Design Is Becoming More Tailored and Customised
As you'd expect from a creative, visual field, ecommerce design is as beholden to trends as the interior design market. Just as in-house customers demand a tailored, welcoming store environment, online shoppers are demanding a tailored, welcoming ecommerce environment. Along with general trends such as a desire for "dark mode" web pages and minimalist, accessible design, customers are demanding a custom user experience supported by page designs that are tailored to specific products and niches.
Instead of a templated website where every page looks and feels the same, customers expect each page to have a user-focused design incorporating a range of functions specific to the type of content featured. Whether that's integrated "mini-carts" for blog or content commerce pages, contextual image design and photography, or fullscreen forms, design considerations could well be the key to a successful user experience in 2020.
By combining many of these trends to create more interactive, more powerful and more memorable content experiences, designers and marketers are producing shoppable content that improves the quality of ecommerce content while simultaneously reducing the number of steps customers need to make to complete a purchase.
Trend #4: More Sales Strategies are Shifting Towards a Subscription Model
"If you build it, they will come." For years, the overriding wisdom for ecommerce strategies was simple. Customers expect an online store, so give them the ability to order products simply, and the details will look after themselves. That's changed.
One of the biggest strategic shifts in 2020 is a move to a subscription-based ecommerce model. Whether that's a monthly subscription as used by Hello Fresh or the aforementioned Harry's Razors, or a more reactive subscription such as Amazon's Dash system, many retailers are discovering that users demand an experience where they don't need to keep returning to websites to place orders.
If the product is right, and the demand exists, a subscription service could be the user experience strategy that delivers the biggest return this year.
Trend #5: Beyond the Written Word - Voice Search and Ecommerce
15% of UK consumers now use voice search at least once every week, 42.7% of US adults regularly use their smartphones' voice apps to search, and half of all German customers have at least tried a voice search. These numbers can't be ignored. In 2020, your customers will expect to be able to find your products using a voice search, whether that's via a dedicated voice search tool such as an Amazon Alexa, or via virtual assistants such as Siri on their smartphones.
If your ecommerce strategy doesn't account for a simple, rewarding user experience for consumers who've chosen to search using voice instead of typing their queries into a search engine, they'll soon look for a retailer who can meet their needs more effectively.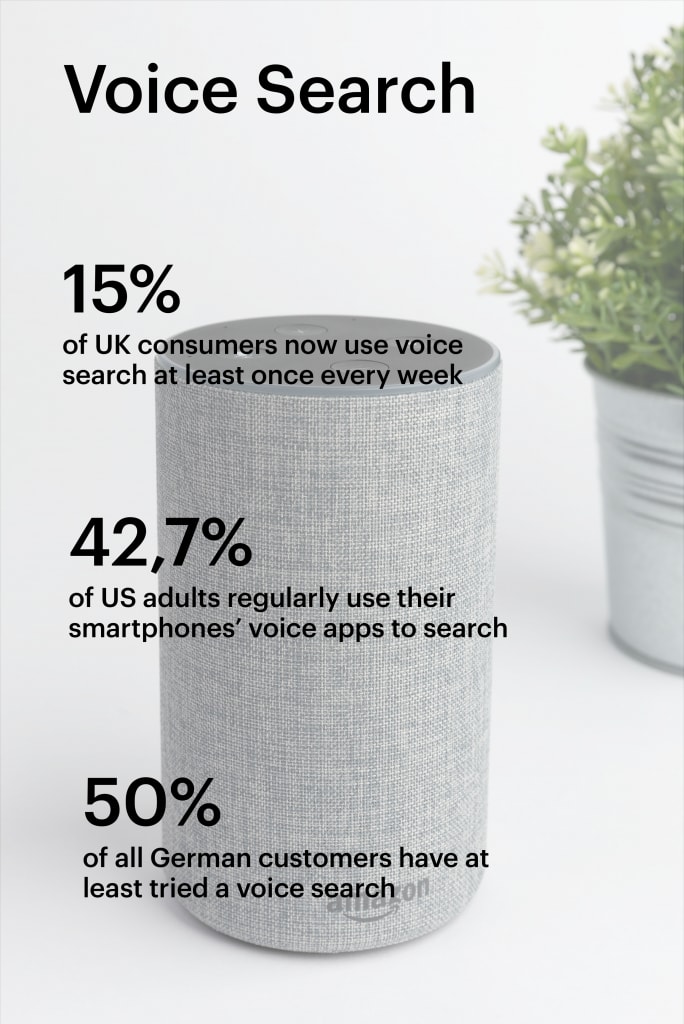 Trend #6: User Experience Requires an Agile Frontend CMS
Experience-led ecommerce architecture is also now a key concern for forward-thinking businesses. As customers increasingly demand storytelling and interactivity - as we addressed in trends two and three - ecommerce businesses are demanding content management systems (CMS) and digital experience platforms (DXPs) which can quickly and efficiently meet customer needs.
An experience-led architecture builds the shop's frontend experience on a decoupled CMS, instead of an ecommerce platform itself, allowing for a more agile content strategy.
This results in a microservice or API-first approach, giving shop owners full control over the customer journey. Instead of having to use time-consuming shop page templates, blending content and commerce, this enables the massive scalability of content production, delivering an engaging experience that seamlessly blends into a simple, easy commerce experience.
Embracing these Trends - Three Ecommerce UX Instant Wins
Build Great Pages

: As many of 2020's trends show, users are demanding simple, shoppable shop pages. By focusing your efforts on providing the users with content on the crucial page types of an ecommerce shop, with simple yet thorough information, and memorable storytelling content, you'll instantly improve your site's ecommerce experience.

Make It Personal

: If you increase emotional engagement with your customers, you'll improve their user experience. By using behavioural targeting to personalise the content and products you serve to a customer, you'll quickly form a connection. Start with basic personalisation - names in emails, and move on to deeper segmentation to serve up only the products your customers are most interested in.

Enable content on a scale and induce it throughout the customer journey

: By utilising a modern content commerce architecture, internal teams are enabled to rapidly provide users with content wherever they demand it. Not having to wait for tech teams or external agencies to build a new page template for campaigns results in faster time to market, higher engagement rates and higher sales.
Ecommerce User Experiences in 2020 - A Summary
In summary, the main trend when it comes to ecommerce user experiences in 2020 is that people are now demanding more. They need a seamless customer experience, one that takes into account their demand for better content, their desire to save time with a subscription model, and their willingness to experiment with voice search.
But while the market is changing, the demands on your ecommerce operation remains the same. You need to provide a rewarding, simple and intuitive user experience in order to keep customers coming back for more. If you can do this, your business is set for success in 2020 and beyond.