There are two words that we all live and swear by in the dot-com era: content and commerce. And indeed, content has now become the biggest slice in the global e-commerce pie, where nearly every established retailer suddenly has a story to tell, a picture to share, and a video to show.
But despite the fact that content and commerce have been co-existing for quite a while, content commerce has never, until now, existed as a concept in itself. In fact, if you go to Google Keywords and type in "content commerce", you will see that there are only 260 monthly searches for the term.
The irony here is that content commerce is already a $44 BLN worth industry and it has been in existence for years — just in a "strictly undefined" form. Depending on the perspective, this ambiguous trend can be perceived as content-driven commerce or commerce-driven content. And while they may sound quite similar at first glance, the difference between them is actually enormous.
Content-driven commerce?
Retailers and business corporations have been publishing their own print magazines for years. There is Colors Magazine by United Colors of Benetton, which dates back to 1991, and Porter by Net-A-Porter that came out quite recently, and many others. In fact, many companies are actively choosing to go to print nowadays — even Red Bull and Airbnb have their own lifestyle magazines (called The Red Bulletin and Pineapple, respectively).
But what for?
Why, all of a sudden, have retailers decided to become publishers?
To answer this question, ask yourself another one: how do people see traditional advertising? That's right — they'd rather not see it at all. In 2013, an American market research firm Lab24 carried out a study that revealed that people have some serious trust issues with advertising. The numbers speak for themselves:
76% of people believe that ads are "very exaggerated" or "somewhat exaggerated".
87% think half or more cleaning ads are photoshopped.
96% think half or more weight loss ads are photoshopped.
"Traditional advertising is nothing more than white noise", says Steve Cody, the founder of Peppercomm, making a very good point. It is even possible to extend that point and claim that modern advertising is like going treasure hunting in a garbage dump: it requires a lot of attention, brings mostly unrewarding results, and feels very much like tedious work. And quite frankly, nobody has time to do it anymore.
That's exactly why businesses started to see content as a lighthouse amidst the ocean of advertising clutter. They choose content because…
"Content puts a filter on advertising. It's a gradual distillation of the truth."
With the help of articles and rich media, brands are not only able to stand out from the crowd, but also provide a curated commerce experience to their customers. And however product-centric their content may still be, it still establishes an emotional connection with customers through inspirational stories that pave the road to successful commerce.
Let's have a look at Tory Burch, for example. This preppy-boho fashion brand infuses content throughout the entire shopping experience, doing a fantastic job at featuring useful content that is relatable to customers.
Another superb example is One Kings Lane, a home decor business. These guys took content commerce to another level and integrated a magazine-like platform that inspires you to immediately make a purchase.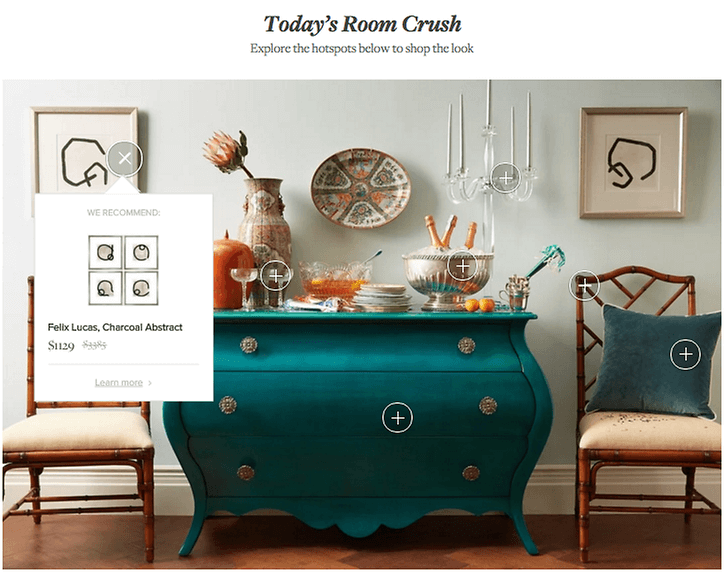 And as expected, One Kings Lane publishes helpful content, too: useful articles like "15 Organizing Tricks for Inside Your Most Clutter-Prone Spots" or interactive videos like "How To Hang Art Salon-Style", which are always followed by the "Shop the Look" gallery. This smart approach, beautiful in its simplicity, first evokes a purchasing desire through content and then satisfies that desire right away by providing a shopping opportunity.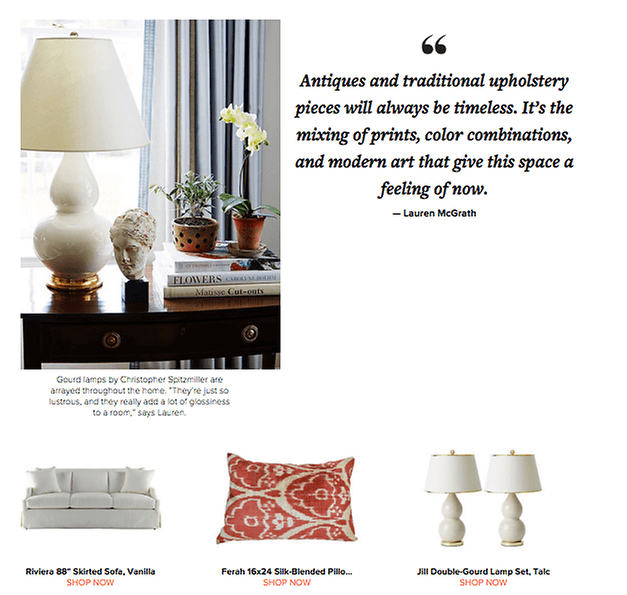 "Helpful content, and not discounts, should be the centrepiece of awareness efforts to attract targeted buyers to your brand", says Chris Pemberton, Digital & Content Marketing Consultant. "Well-crafted, persona-tailored content will attract more qualified visitors, differentiate a brand, evoke a lifestyle and even surprise and delight shoppers", he goes on.
And that's exactly the role that content is meant to play in commerce.
Or commerce-driven content?
But if retailers are blending content into commerce, publishers are doing it the other way around by blending commerce into content.
Basically, they do this by trying to obtain revenue from digital content — e-books, music, videos, newsletters, pictures, etc — through advertising, partnerships, and affiliate marketing. We're seeing newspapers and magazines doing it quite well: there's Telegraph Fashion Channel, which infuses its editorial content with shopping links to affiliate partners; or Glamour Magazine which publishes articles on "mastering the art of the manicure" that somehow, magically, inexplicitly involve OPI nail polish and other partnered products.
By using their influence, magazines can determine readers' shopping habits, and there's no doubt they're good at leveraging this power.
But how do you monetise content without sacrificing its editorial integrity?
For many publishers that are standing on the verge of retail, this is a hard nut to crack. Glamour's Digital Director, Anne Sachs, however, says that readers, particularly across social platforms, actually expect editors to cross the thin line and say where to buy what they just wrote about in the magazines. So providing this immediate solution is the fastest response the readers can get.
In this light, commercial content has hardly anything in common with aggressive traditional advertising that promotes products the audience expressed zero interest in before. In fact, the politics here are crystal clear:
"Because there's so much more transparency and there's so much more audience engagement with comments and sharing, you have a much more democratic marketplace," explains Ariel Foxman, the Editorial Director of InStyle Magazine. "It's unlawful to present something that's not editorial as editorial", he goes on, adding that consumers "have called it out" again and again.
Such transparency puts the necessary pressure on editors to do the right thing. The on-going challenge, however, is to find the right balance between content and affiliate marketing — but that is a question of integrity rather than anything else.
The road to commerce is paved with content
So here we are, on the verge of content and commerce. Whatever perspective you acquire, integrating content into commerce (and the other way around) is easier said than done. Product has to be worthy, content has to be authentic, and the transaction experience — a bridge between publishing and retail — must be seamless.
But as many difficulties as there are on the way, the relationship between content and commerce has multiple mutual benefits that cannot be ignored. Be it a retailer that enhances its business with the power of words, or a publisher that brings extra value to its readers through merchantry, at the end of the day, it all adds up to joining customers on their inspirational journey and landing together on the same page. And if it happens to be a landing page for a product, well, then you and your customers are both winners in the game of content commerce.
Like this? Check out

9 Best Practices for Digital Experiences in Rapidly Changing Markets